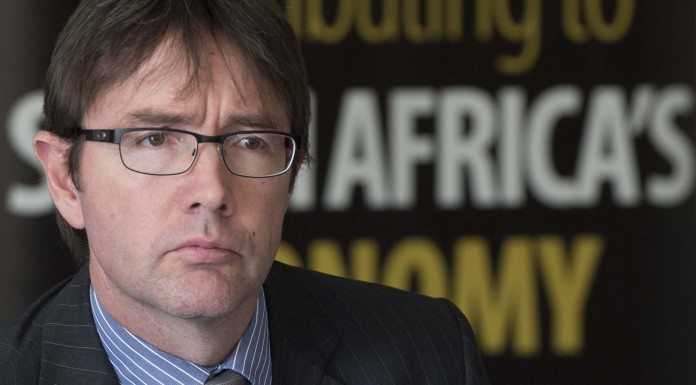 THE Chamber of Mines of South Africa (CoM) and the Department of Mineral Resources (DMR) claimed important advances had been made in negotiations concerning a new draft mining charter gazetted in Parliament on April 14.
Speaking to media following the CoM annual general meeting, at which he spoke, mines minister, Mosebenzi Zwane, said the sides were now discussing 'modalities' as broader goals had been agreed.
"We are both happy, the chamber and ourselves, on engagements so far; we have as a team come up with positive results," said Zwane, although he also acknowledged there was "nitty gritty" that was still being worked on.
Said Roger Baxter, CEO of the CoM: "We are back on track in engagement with DMR". He wouldn't go into details regarding discussions, but – importantly – it seems as if the industry has used the event of the new charter, and the appointment of a new mines minister, to extend discussions to other issues beyond the charter itself.
For instance, there had been agreement on the need to more appropriately apply section 54 notices which, in terms of the Minerals & Petroleum Resources Development Act (MPRDA), enable the government to shut down mining operations in the event of an accident, or if a safety protocol or standard has been contravened.
Baxter said there had been "a meeting of minds in certain regions" in which section 55 notices could be imposed which allow for working sections to be shut in the event of a health and safety contravention instead of the whole shaft.
"If you come to a particular mine and you are not complying on these issues, we may say: "You are not complying – how long will you take [to comply]?'," said Zwane on the issue of health and safety.
"That is a compromise to us because we understand the impact of closing down mines willy-nilly," he said, adding that it was incumbent on mining companies to make sure mines were safe.
Earlier in his address to the CoM AGM, Zwane said 2016 was shaping up to be a disappointing year for health and safety as there had already been 30 fatalities in South African mines. Last year, some 77 miners were killed whilst at work – it was the lowest number of fatalities since mining began in South Africa.
Zwane said there had also been progress on passing amendments to the MPRDA, which would be completed this year, whilst the appointment of a permanent director-general of the DMR was progressing.
This followed the resignation earlier this year of Thibedi Ramontja. He was replaced by David Msiza, the head of mines inspection, on a temporary basis but who was in attendance at the press briefing.
However, it was the passage of the mining charter negotiations that are most pressing given that the government has called for black economic empowerment in perpetuity, an issue the CoM has taken to the High Court.
In its court application, the CoM is seeking a declaratory order showing that the mining charter does not ask for mining firms to maintain 26% BEE equity stakes.
Baxter was evasive when asked if the CoM would seek a political agreement with the DMR such that industry would drop its High Court application if the government agreed to redraft the newly gazetted mining charter in its current form.
"The court process can take a very long time," said Baxter "We are not arguing that the mining charter is unconstitutional; we are just seeking a declaratory order on the mining charter".
Speaking in his address as chamber of the CoM, Mike Teke, defended some of the achievements of the mining charter. "The mining charter has been an effective tool for addressing at least some of the industry's legacies.
"Although it has become fashionable for some to say that it has been a failure, the facts tell otherwise.
"The only people who will say that are those who have chosen to forget about our country's and our industry's history, or have chosen to avoid finding out about it," he said.