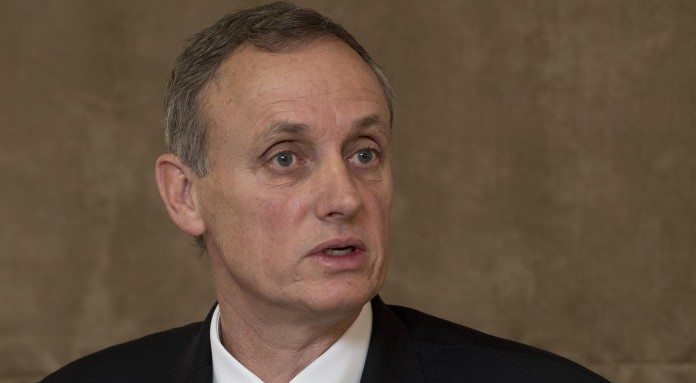 TERENCE Goodlace has tendered his resignation as CEO of Impala Platinum (Implats), a surprise development that was accepted at a company board meeting today. He intends to step down in December.
Goodlace has served on Implats' board for six years of which four of them were as CEO – a period which must go down as among the most turbulent in the company's history.
During that time, the company endured a five-and-a-half month strike by unions, including members of the Association of Mineworkers & Construction Union (AMCU) which rose to its current prominence, among much disruption, during his tenure as CEO.
Platinum prices also rose and fell in dramatic fashion whilst the events of the Marikana disaster played out at the nearby premises of Lonmin which made for volatile working conditions in the entire Rustenburg area.
Goodlace gave no specific reasons for his decision to step down, but it's thought a series of underground fatalities had had an effect on him – himself a graduate of the stope.
Four miners were killed in a fire in Lease Area's 14 shaft in February which led Goodlace to order a revamp of safety measures even after having already spent R1bn over four years on improving safety. He described the event has "devastating" and said, several months later, that the company continued to grieve the lost lives.
"He told the board last week that he was taking personal strain and it was affecting him so it was therefore the right time to start thinking about a leadership change," said Johan Theron, spokesman for the company.
Goodlace may engage the media about the matter (he is increasingly media shy) but first he has to manage the rescue of two missing miners caught in a rockfall event at 1 shaft at Implats' Rustenburg premises on May 17.
Theron said Goodlace was underground at the operation today whilst the board met. The rescue team is close to the working area where the event happened. "If they are deeper in than that, then we will continue," said Theron.
Said Goodlace in a statement to the Johannesburg Stock Exchange: "I am very pleased to have served this great company for more than half a decade and depart with a sense of pride for leaving behind a great team of executives and a strong board to lead Implats into the future".
Mandla Gantsho, chairman of Implats, acknowledged Goodlace's work "at a difficult time for the platinum mining sector and the mining industry generally".
"The board is pleased that he has given us a long notice period of his intention to step down and appreciate his commitment to continue to support the company and the board on the important 'lower for longer commodity prices' response initiatives, and in the leadership succession and handover," said Gantsho.
Goodlace was formerly an executive of Metorex and before that led the South African mining team at Gold Fields.