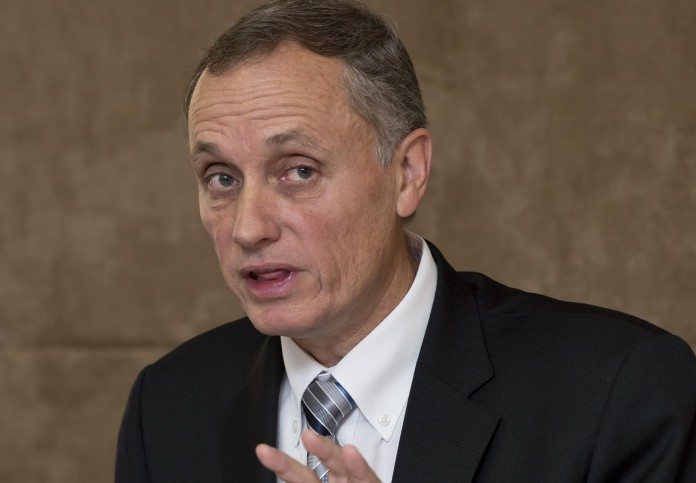 TWO employees working at Impala Platinum's (Implats') Rustenburg 1 shaft are reported missing following a fall of ground at the operation this morning (May 17), the company said in an announcement.
The development that will be a blow to Implats CEO, Terence Goodlace, who is said to have taken a spate of accidents at the company's premises very hard.
He recently promised to redouble the group's efforts to impose 100% safety at the company, especially its Rustenburg shafts, known as Lease Area.
Four miners were killed in a fire in Lease Area's 14 shaft in February which led Goodlace to order a revamp of safety measures even after having already spent R1bn over four years on improving safety.
"Implats confirms that a fall of ground incident occurred at Impala Rustenburg's 1 Shaft during the morning shift of 17 May 2016. Regrettably two employees have been reported missing," the company said in its statement.
"All other employees have been safely evacuated from the working area and a search and rescue operation by mine rescue teams is underway to locate the two missing miners," it said.
"The full extent and cause of the rock fall has not yet been established as the priority and focus remains the search and rescue operation," it added.
One impact of accidents such as falls of ground that result in possible loss of life is that production is suspended to make way for an investigation in which the Department of Mineral Resources (DMR) is involved.
Following the fire at 14 shaft, some 23 days of production were lost whilst the investigation took place and miners that were working in the area were re-deployed to other mining areas in Rustenburg or helped in the clean-up and repair operation.
Implats said in April that it hoped to meet full-year production guidance of 1.42 million ounces of refined platinum despite the fire. It had treated stockpiled ore in lieu of production from 14 shaft.
It is still targeting 830,000 oz of production in its 2018 financial year with the build-up to that figure expected to be somewhat slower than originally planned.
Goodlace described the events in February as "devastating" adding that efforts were being put in to impose 'zero-harm' at all operations "… to stop these tragic incidents, once and for all".
Safety remained "… a significant challenge for us", he added.
It was the events at Implats' Rustenburg operations in December that are thought to have prompted the North West province office of the DMR to order a blanket suspension of platinum mining in the region. The order was not imposed following intervention by mining bosses, however.