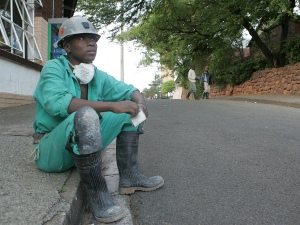 SOUTH Africa's gold mining industry could face up to $3.4bn in liabilities relating to a class action issued on behalf of mineworkers suffering from tuberculosis and silicosis.
Commenting on the class action, which was certified by the High Court in Johannesburg on May 13, Investec Securities said its assumptions were "… a worse case scenario".
The High Court certification paves the way for tens of thousands of mineworkers and former mineworkers suffering from silicosis and tuberculosis (TB) to sue the mining companies for damages, said BDLive earlier this month.
"After examining legal prescripts' we reached a conclusion that there are sufficient issues to certify a class action where there would be two classes: the silicosis class; and the TB class'" the deputy judge president of the High Court in Johannesburg' Phineas Mojapelo' said in court.
Press reports put the number of claimants that could join the class action as between 100,000 and 500,000 and would include the families of now deceased miners as claims could reach back as far as 1965.
The class action is against 32 gold mining companies, including AngloGold Ashanti, Sibanye Gold, Harmony Gold and Anglo American.
"While we think this will take a long time to conclude, we note that should the class action succeed and if the damages are awarded are similar to those in previous cases, it could have a significant financial impact on the South African gold mining industry," said Nkateko Mathonsi and Andrew Snowdowne, Investec Securities analysts.
Investec said the outcomes of such cases were "unpredictable", but it added that the liability may materialise if "the line of reasoning" was adopted earlier this year in which Anglo American and AngloGold Ashanti agreed to a $30m settlement with 4,388 miners affected by silicosis.
In that settlement, Anglo American and AngloGold Ashanti agreed to pay R464m or $30m equal to an average of R106,000 per claimant. Investec worked on a settlement of R100,000 each for the class action claim.
"Should this class action succeed it might encourage other health and environmental related class actions against the South African mining industry which could severely harm its interests," said the Investec analysts.
"We expect, therefore, that the industry will defend this action robustly," they added.
Gold mining companies Harmony Gold, Sibanye Gold and Gold Fields have said that owing to the developing nature of the issue they were unable to quantify the possible liability.
AngloGold Ashanti has said, however, that were a judgement to go against it in the event of a major class action "… such matters would have an adverse effect on its financial position, which could be material".