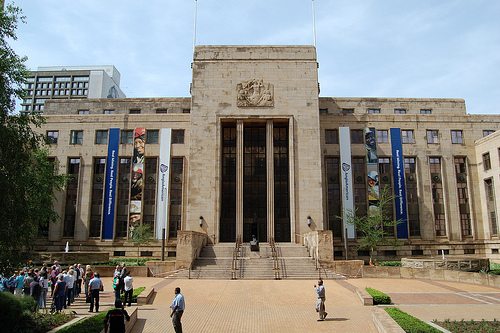 ABOUT 300 employees of De Beers will later this year make the 3.7km trip from 17 Charterhouse Street, offices for the diamond group for nearly a century and handily located near to Ye Olde Mitre – London's oldest pub – to 20 Carlton House Terrace, HQ of 85% shareholder, Anglo American.
The move is part of a cost-saving drive that has more than just sentimental value at its heart as it also sees Anglo shed about a third of its 133,000 strong staff.
A natural question of these moves is whether Anglo is considering a similar change to its Johannesburg properties. Afterall, Anglo owns four substantial buildings in Johannesburg, including the iconic 44 Main Street, the walls of which are strewn with tapestries and Georgian etchings.
Says Pranill Ramchander, spokesman for the UK group in Johannesburg: "Everything is up for consideration; we would consider it". That sounds very much like a yes; that Anglo is to downsize its Johannesburg presence, if not vacate the place altogether.
Sources tell Miningmx though that this isn't a simple decision. Thought must go towards what Anglo represents to Johannesburg, not least of which is its founding-father position. It also contributes towards the security of the city.
"They [Anglo] has to make some calls, especially when you changing the shape of the organisation, change will inevitably occur. And you're already seeing that. When you walk around the offices there, there are a lot of vacancies," one source said.
Anglo American has already taken its overheads down by 50% and is looking to achieve more. Of the four buildings in Johannesburg, it could probably compress employees who survived the downsizing into two buildings.
Might it also look to replicate the De Beers move in Johannesburg with the diamond group's surviving employees moving from the Crown lodgings in the west of the city to Marshall Street or Main?
Interestingly, De Beers rents its offices in west Johannesburg Crown district whereas Anglo American owns its premises. If such a move were affected, it would also bring the groups together as they once shared offices prior to the controversial delisting of De Beers by previous part owner, the Oppenheimer family.
As for Charterhouse Street, its famed high security vaults in which it once stored billions of dollars worth of diamonds – for use when the market was starved of supply – is no longer required.
In a new 10-year marketing agreement through its Botswanan joint venture company, Debswana, De Beers agreed to move its diamond sorting operations to the southern African country's capital, Gaborone.
According to the Guardian, Anglo will seek a buyer for its Charterhouse offices including the rooftop helipad used by Nicky Oppenheimer, once the chairman of De Beers before selling his family's stake for a neat $5.1bn – roughly half of Anglo's value today.