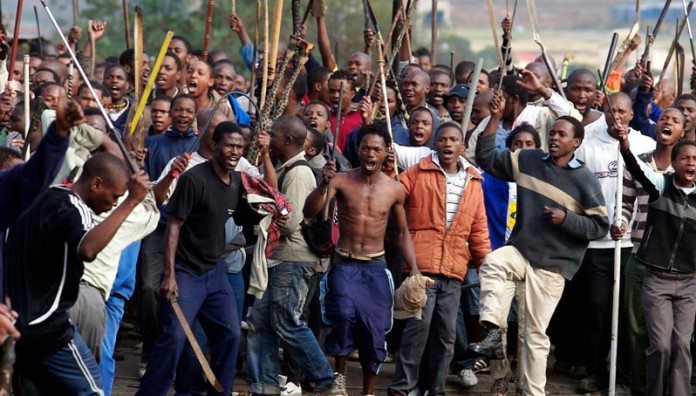 SIBANYE Gold said it would remain consistent in its treatment of unprotected strikes following a decision by the Association of Mineworkers & Construction Union (AMCU) to return to work at Kroondal Platinum Mine.
Wage talks between platinum producers and unions, including the AMCU and the National Union of Mineworkers are due to kick off later this year. The expectation is that there's little appetite for a protracted strike.
One view was that the gold and platinum group metals producer might adopt a more careful approach to AMCU because of the union's potential to disrupt its business on a larger scale once Sibanye completed the purchase of Rustenburg Platinum Mines from Anglo American Platinum (Amplats).
Rustenburg Platinum Mines is the much larger neighbour of Kroondal; the two mines will have to be combined in order to realise the synergies that would enable Sibanye to operate in platinum profitably.
It was, therefore, suggested that it not be prudent to antagonise the union ahead of the Rustenburg Platinum Mines acquisition, due to be completed later this year.
"No, not at all," said James Wellsted, a spokesman for Sibanye Gold. "I think the fact that we interdicted them [AMCU] immediately tells you we wont be changing our approach," he said.
On Friday (May 27), South Africa's Labour Court granted an interdict judging AMCU's proposed strike at Kroondal illegal. AMCU is required to suspend any strike action taken by its members, said Sibanye in Friday's statement.
AMCU said it called the strike after repeated calls for transport for members working night shifts had been ignored by Sibanye. AMCU claims the workers were being attacked.
Jean Nel, CEO of Sibanye's platinum division said his company had been "… engaging with AMCU on this issue in good faith since January 2016. We will continue to engage with AMCU in order to find a workable solution".
AMCU pressed ahead with the strike action today only to suspend it following a mass meeting of employees. AMCU general secretary Jeffrey Mphahlele told Reuters the union would meet Sibanye officials to discuss their demands.
Neal Froneman, CEO of Sibanye, has pulled no punches in his approach to illegal strikes, even before he ran Sibanye when, at Gold One International, he fired staff that had embarked on an unprotected strike.
Commenting in 2014 amid a five-and-a-half month strike in the platinum sector, Froneman said high wage demands could not be accepted from "a moral point of view".
"It's not an affordability issue, but a sustainability issue as we would like to create jobs for longer. We won't entertain those types of demands. We will take a harder line [than the platinum sector] as the increases are unrealistic. We will take them head on," he said.
A strike at Kroondal would have had limited impact on Sibanye.
According to one analyst's estimates, it comprises about 3% of Sibanye's earnings whilst some 205,000 tonnes of stockpiled ore would have been enough to continue supplying customers for another two weeks at least.