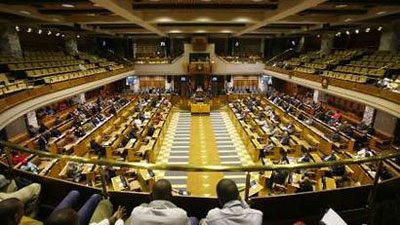 AMENDMENTS to South Africa's Minerals & Petroleum Resources Development Act (MPRDA), which have been sitting in the country's parliament for nearly two years, will be sent to the National Council of Provinces (NCOP) for approval despite criticism from opposition parties that weaknesses in the legislation have not been tackled.
The National Assembly today voted 198 in favour versus 81 votes against that the bill be referred to the NCOP, the upper house in parliament – the final step before promulgation of the long-standing bill.
The bill was sent back to parliament in January 2015 by President Jacob Zuma who questioned the constitutionality of the bill; specifically with regard to elevating the mining charter to force of law, and whether it contravened bilateral agreements with international trading partners.
Zuma was also concerned with the process of the bill's passage through parliament in that it had not been sufficiently discussed with the House of Traditional Leaders, nor the NCOP.
However, in August the portfolio committee for mineral resources, chaired by the ANC's Sahlulele Luzipo, found Zuma's concern about the constitutionality of the amendments to be unfounded.
Hendrik Schmidt, a Democratic Alliance MP and shadow deputy minister of mining, said the portfolio committee had failed to enlist independent legal opinion on the amendments which were being contested between state and parliamentarian legal opinion.
He was also critical of the new attention being paid to its process, saying that none of the House of Traditional Leader recommendations, which focused on community rights, had been incorporated into the amendments, and suggesting that this was therefore "just a process".
However, mines minister Mosebenzi Zwane won the day who said in introducing the motion that he believed "the bill would pass constitutional muster" – to jeers from members in the assembly.
Peter Leon, an attorney for Herbert Smith Freehills, said in the past that if Zuma's concerns about the constitutionality of the bill had not been addressed by the portfolio committee, then he would have no option but to refer the bill to the Constitutional Court.
Some of the concerns regarding the amendments were the capping of exports over so-called 'strategic minerals' which fell to the minister to identify – a level of discretion that was also criticised in parliament. The amendments also give the mines minister discretion over pricing of minerals to local users in order to encourage beneficiation.
"Very few of the flaws have been fixed," said James Lorimer, the DA's shadow minister of mines, referring to the potential of the amendments in the MPRDA to contravene bilateral trade agreements and the constitutionality of elevating the mining charter, initially a framework agreement and is now itself under discussion, to the force of law.
The EFF's Floyd Shivambu said the bill had probably been sent back on the advice of the Gupta family with whom Zuma is thought to have close business ties.