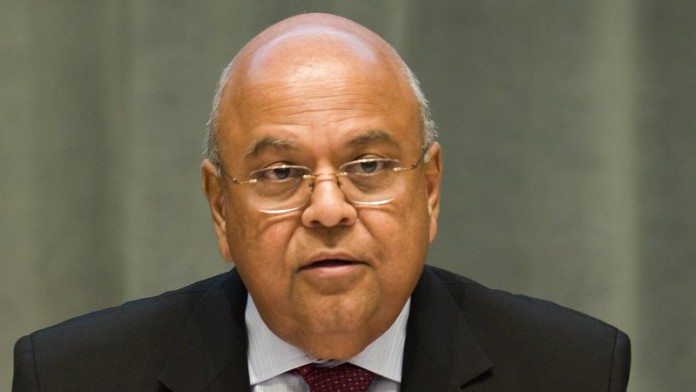 POLITICAL instability in South Africa would be "slightly negative" for Anglo American as the restructuring of its local assets might be delayed, but gold miners would benefit most, at least in the short term, said Goldman Sachs in a note today.
The rand had fallen about 4.5% against the dollar in the last two days following the recall of South African finance minister, Pravin Gordhan, from a post budget international roadshow by President Jacob Zuma.
The recall was thought to preface a cabinet reshuffle in which Gordhan would lose the finance portfolio, although that has yet to materialise. Gordhan told reporters earlier today he was still the finance minister.
Goldman Sachs said the depreciation of the rand was "a clear positive" for gold miners in South Africa because about 60% of the costs are denominated in rands so that the depreciation softened the impact of inflation. Companies most exposed to this were AngloGold, for which Goldman Sachs has a buy recommendation, Gold Fields and Sibanye gold (both neutral).
Rand weakness was mildly positive for Glencore and "slightly negative" for Anglo American "… as there could be a delay in the proposed spin-off of its South African assets," said Goldman Sachs.
Anglo American said it was currently content to operate its investments in its export coal mines in South Africa, as well as its 70% stake in Kumba Iron Ore, for cash but a restructuring is thought to be contemplated in the medium term. One idea is that the assets are unbundled, using Kumba as a vehicle.
Of all the South African miners, Lonmin's pre-tax earnings had the most gearing to a 10% weakening in the rand of nearly 120% followed by Anglo American Platinum (+80%), Sibanye Gold (+50%) and Impala Platinum (+30%).
For platinum stocks, the mark to market amid currency volatility was neutral as a weaker rand leads to lower platinum prices given the dominance of South African miners in that market.
However, post an interest rate hike by the Federal Reserve – with two more likely to come – platinum and palladium prices have rallied. "This coupled with the depreciation of the ZAR has seen the basket price up by 6% year-to-date," said Goldman Sachs. "If this phenomenon continues, we could see PGM miners rally," it said.
Short term revenue fillips aside, the Chamber of Mines today articulated its concern regarding the impact a recall of Gordhan would have on investor sentiment towards South Africa. It said it was "deeply concerned" that the country's economic stability and investment grade rating might be in jeopardy.
"We urge President Zuma and cabinet to act in South Africa's best interests to promote a stable, predictable and competitive environment to ensure we continue to build a positive investment climate built on ethical leadership and good governance so that we can meet our economic, social and development goals," it said in a statement.