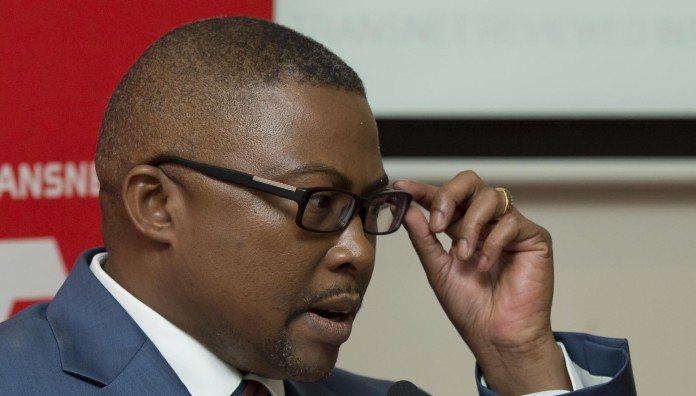 TRANSNET, the state-owned logistics and freight moving company, insisted it was under no pressure despite a sovereign rating downgrade earlier this year, saying it had access to R130bn in fresh capital of which R60bn could be sourced from international bond issuances.
However, the company had tightened its spending plans amid evidence of a potential worsening in its financial ratios amid a continued weakening in the South African economy.
As a result, Transnet's long-standing strategy of counter-cyclical investment – building capacity on its rail, pipeline, and port infrastructure far in advance of an improvement in commodity prices – had been ditched in favour of a more cautious approach where it would invest six months ahead of fresh demand.
"Our liquidity risk is relatively low and we can fund with our own balance sheet," said Garry Pita, Transnet Group CFO. "It is an untold story that Transnet doesn't take a cent from the ficus," he added.
In terms of planned funding activities, Transnet expected to raise R24.3bn this year potentially made up of R3bn worth of commercial paper, R11.3bn from DFI (Development Funding Institutions) and the global bond programme, as well as R5bn each from bank loans and domestic bonds issuances.
"We have a wide range of funding of R130bn of which R60bn could be from global bond issuance and, if the market wants, we can raise R35bn through domestic bonds," said Pita.
Transnet today reported full-year earnings before interest, tax, depreciation and amortization of R27.6bn, an improvement of 5% year-on-year. This was owing to improved tonnages on in general freight, coal and automotive and container volumes, as well as a R2.4bn saving in discretionary costs.
Said Pita: "When we had discussions with ratings agencies, as well as lenders, they paid particular attention to our financial leverage considerations such as cash interest cover. Given the counter-cyclical investment strategy we've had since 2012, these ratios start eroding".
At the moment, the signs of balance sheet stress are not significant but they are there. Despite a 16.4% increase in cash generation from operations to R32.8bn in Transnet's 2016/17 financial year, its cash interest cover ratio was 2.9 times debt versus 3.1 times a year ago owing to an increase in net finance costs. This was not enough to trigger loan covenants, Transnet said.
The gearing ratio increased to 44.4% from 43.1% a year ago, although Transnet said its gearing ratio was not expected to exceed 50% maximum mandate over the medium term.
In mid-June, Moody's Investor Service downgraded a number of South African corporate, including Transnet, as a result of South Africa's weakening sovereign investment profile.
Transnet had subsequently sought to improve its working capital management, find alternative revenue generation, and optimise its capital expenditure as well as cut operating capex. The group had, therefore, reduced its capex bill to R229bn over the next seven years from R336bn two years ago.
The current capital expenditure plan is:
R24.4bn for 2017/18FY
R27.2bn for 2018/19FY
R32bn for 2019/20FY
R42.2bn for 2020/21FY
R37.4bn for 2021/22FY
R33.7bn for 2022/23FY
R32.2bn for 2023/24FY
Transnet CEO, Siyabonga Gama, however, said the company had a R20bn war chest it would use for opportunistic merger and acquisition activity. "The beauty of this is that it's modular and agile," he said.
"We go to customers and validate if they are going to increase production so it doesn't create too much capacity ahead of return. We don't want to be too far ahead of the curve; a six month lag is fine," he said.
Some of this included seeking new business opportunities in Africa as part of a Transnet 4.0 expansion programme.