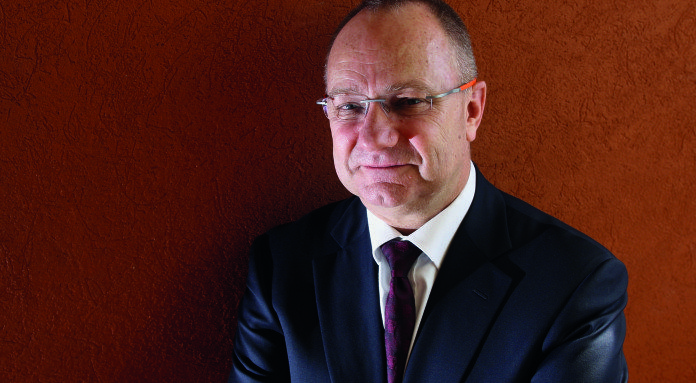 MARK Cutifani, CEO of Anglo American, has agreed with the board to stay on at the company he joined five years ago in April.
"I always said I would review my position after five to seven years, but the board agreed that I should keep on going. We've not put an end-date on it yet," he said in an interview with Miningmx today following the group's 2017 financial results presentation.
"If you can't see where the next 30% improvement in the business is going to come from, then it's probably time to go," he said. "I can see that 30%."
Anglo American paid its highest dividend in 10 years and halved net debt. Cost cuts and a 9% increase in production (copper equivalent) contributed $1.1bn in underlying EBITDA which totalled $8.8bn for the year. On top of that, Anglo has set itself a target of improving underlying the EBITDA run-rate between $3bn and $4bn by 2022.
SOUTH AFRICA
A number of questions were posed by analysts on Anglo's approach to its South African assets, especially the coal, iron ore and manganese operations which were up for sale two years ago in the teeth of high debt and uninspiring mineral prices. Cutifani said there was no intention to move on these assets notwithstanding the improvement in business environment in South Africa that might potentially make corporate action easier.
Asked by Miningmx in a media conference earlier on Thursday whether corporate action was planned, Cutifani said: "Today, from South Africa, we achieved 35% EBITDA, $2.3bn in free cash flow, and a return on capital employed of 23%. We are very happy with the team. The intention is to work with those assets and improve the business. Period".
He acknowledged, however, that in terms of capital allocation, more funds were destined for assets elsewhere on the globe. "We are spending more of our capital base outside South Africa because we see more opportunities, but it doesn't mean we won't put money into assets in South Africa," he said.
"South Africa is in a very competitive position, but there is more to be done," he said in reference to the improvement in business climate since the appointment of Cyril Ramaphosa as the country's president. On February 14, Ramaphosa replaced Jacob Zuma whose nine year administration was characterised by allegations of corruption.
Ramaphosa, a trade unionist who formed the National Union of Mineworkers in 1982, left politics during the period Thabo Mbeki was president in order to pursue a career in business. He bought the South Africa licence for McDonalds, the fast-food chain for instance, but his primary business interests were in mining. Ramaphosa's Shanduka Group was in joint venture with Glencore.
Earlier this week, Ramaphosa offered to negotiate a redraft of the Mining Charter following his State of the Nation Address two days earlier in which he singled out the mining sector as a potential catalyst for economic progress in the country. The offer of talks persuaded the Chamber of Mines to postpone a three-day High Court review of the Charter. It said at the time it might be better to give negotiations a chance.
Cutifani said Mining Charter talks could result in a re-scope of "the entire conversation" regarding transformation in South Africa. "The reason the president has identified mining is that we all got that last conversation wrong. There are elements in the Charter that did not provide a climate for return so capital allocation dried up across the industry," he said.
"We will come to the table looking for ways to make mining better to attract returns. And I think, they are in the same place. Our industry is a 30 to 40 year industry. We want to see policy certainty we can bank on. We have got a long way to go," he said.