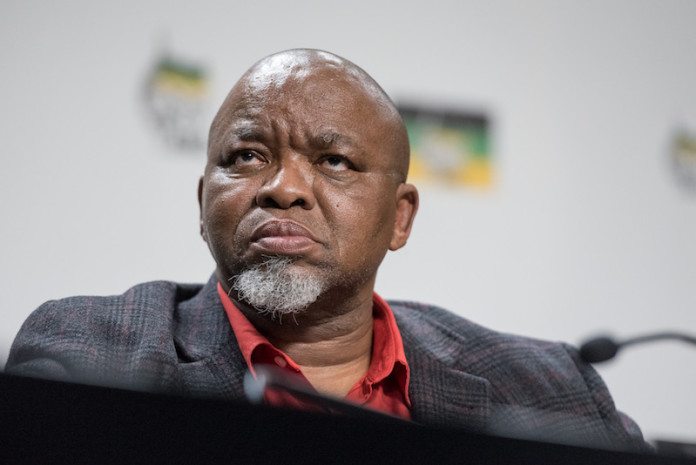 SOUTH African mines minister, Gwede Mantashe, dismissed criticism he erred in using Mining Charter 3 as a basis for discussion in the first meeting between his department and the mining sector, saying it wasn't possible to pretend "nothing had happened". He added, however, that there was willingness to amend Mining Charter 3.
"We are not tied or married to Mining Charter 3. But we cannot start from a clean paper. That is the basis of the discussion. The first problem that we were not talking has been resolved," he added. Mantashe also said he intended to make short work of the Mining Charter negotiations setting an end-May deadline for conclusion – a reference to the three months he said it would take when commenting on discussions earlier this month.
Two separate teams established to work on recommended changes to the Mining Charter dealing with transformation and industry competitiveness – a clear attempt to marry the demands of government with business – would report back following the Easter weekend (March 30 – April 1). A further meeting would be scheduled thereafter.
"The starting point is not to say there is nothing to start with. There are overlaps between Mining Charter 2 and 3. If you have a problem with Mining Charter 3, then what are those problems? Let's identify the problems on Charter 3. Anything that is reasonably raised in those problems will be looked into, and amended. That is our commitment," he said. He was addressing a media briefing in Pretoria.
Responding to media questions, Mantashe also indicated a level of satisfaction with the 30% equity target contained in Mining Charter 3 – published by his predecessor, Mosebenzi Zwane in June last year. He indicated that the target was not necessarily unrealistic if mining companies had already achieved 26% empowerment which is a provision of the 2010 version of the Mining Charter.
However, the 30% issue had not been contested in the meeting with the industry. "The 30% target was not raised by anyone, including the Chamber of Mines. There is no problem with the 30%. If we revise it, it will be an issue for the future," he said.
"My argument is that 30% is not substantial. 20% is not substantial if it's versus 100%. But if you move to 30% from zero that is substantial. If we agree on 30%, let's meet and comply. If we grow it, it will be done systematically as we empower people; it will be possible once we increase the [black] ownership," he said.
In addition to discussions with mining companies and unions, the DMR would also engage with communities. The Benchmarks Foundation today expressed dissatisfaction with the exclusion of community representatives from the weekend discussions on the Charter. It said this "did not augur well for the Charter's future".
Mantashe responded that the DMR would undertake discussions with communities, including labour-sending regions of the country. His comments were fiercely questioned by communities representatives attending the media briefing. "These are provincial meetings you are planning not meeting with the communities," said one.
Another potential headwind was the refusal of the Association of Mineworkers & Construction Union (AMCU) to attend the weekend meeting. Mantashe said the process of discussion would not be held to ransom by any faction or party. "If you don't come, we will continue," he said.
CORRUPTION
Mantashe dealt broadly with a number of other issues troubling South Africa's mining sector including dysfunction within his Department of Mineral Resources (DMR). For instance, corrupt officials would be prosecuted, especially in the regional licensing departments of which mining companies in the past have been critical. "The department needs to be transparent," he said.
He also said the imposition of Section 54 of the Mine Health and Safety Act should not be used to "manipulate" companies. "The application of Section 54 should be an absolute last resort," he said. During Zwane's administration, mining companies – especially platinum firms that fell under the DMR's North West province office – repeatedly fell foul of unfair stoppages. Sibanye-Stillwater took Zwane to court in one such instance.
He also promised to stabilise the DMR where morale had been undermined by staffing problems. "The majority of our senior managers are acting," he said. "Nobody takes you seriously [in such a case]," he said. The position of director-general and the chief mining engineer in the DMR are currently held on an interim basis.
MPRDA
Mantashe said he hoped amendments to the Minerals and Petroleum Resources Development Act (MPRDA) would be finalised "… sooner rather than later", adding that he was seeking "urgent progress". The legislation was still with the National Council of Provinces, South Africa's upper house in Parliament.
He also expressed earlier views that the former Gupta family mines held in Tegeta Resources – Optimum Coal Mine and Koornfontein Coal Mine among others – should be revived in order to protect jobs. "We have agreed and indicated that these assets are still good assets and be viable by [in the hands of] other operators.
"We are keeping a close watch, but we need to ensure that the ministry follows due process and selects the right operators. We are due to appear before the parliamentary committee to provide an update on the process," he said.