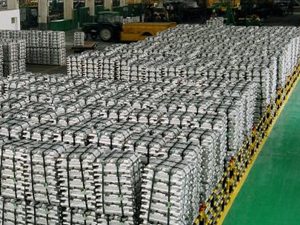 The beneficial fallout on certain commodities from US sanctions on giant Russian aluminum producer Rusal – and possible action against Norilsk Nickel – is spreading with aluminium and nickel prices rising in the wake of earlier moves by palladium.
The palladium price went through $1,000/oz on Tuesday because of fears that US sanctions might be extended to Norilsk Nickel – the Russian company listed on the London Stock Exchange which is the world's largest producer of palladium; second largest producer of nickel and fourth largest producer of platinum and rhodium.
But aluminium is also climbing – it reached $2,428/ t on Tuesday from $2,315/t on Monday – which took the metal to its highest levels in more than six years. Forecasts are the price could rise to levels between $2,800/t and $3,000/t last seen in 2008.
Likewise nickel is shifting up a gear moving on the London Metals Exchange (LME) from $12,885/t on April 6 to $14,200 currently as traders and consumers stock up ahead of potential sanctions against Norilsk.
According to SP Angel analyst John Meyer in a report released on Tuesday, "aluminium's rally continues uninhibited. The metal surged as much as 4.8% – the highest since September 2011 – as the market adapts to the supply shock from a company (Rusal) accounting for approximately 17% of global production outside of China. "
Meyer added, "as sanctions take immediate effect the Russian supplier has been shut out of the Western financial system crushing its share price. Shares in rival suppliers have climbed with Australia's Alumina Ltd – a partner with Alcoa Corp (the world's largest bauxite and alumina producer) heading for the highest close since 2011. "
Also benefitting from the aluminium price surge is South32 which owns and operates aluminum smelters in Richards Bay and Maputo. South32 shares are up 18% since March 26 rising on the JSE from R28.62 then to close at R33.71 on April 17.
Meyer's assessment is that, "blocking sales and impacting the raw material supply chain could cause Rusal to cut production. The sanctions have thrown an estimated $3 billion of aluminium output into limbo as company production accounts for more than a third of holdings in LME warehouses. The LME has also banned, with effect from April 17, deliveries of Rusal metal into sheds "
But the jump in the palladium price has done nothing for platinum which has dropped from just over $1,000/oz at the end of February to $938/oz currently. The South African mines are primary producers of platinum which dominates their revenues with palladium effectively a by-product so their fortunes are largely determined by the platinum price.
As a result platinum company share prices are sliding again with Impala Platinum and Sibanye-Stillwater being particularly hard hit. Implats fell to R21.37 at Tuesday's close – setting a new 52 week low compared with a 52 week high of R48.60. Sibanye closed at R10.10 – after being as low as R9.97 – which set a new 52 week low compared with a 52 week high of R22.09.