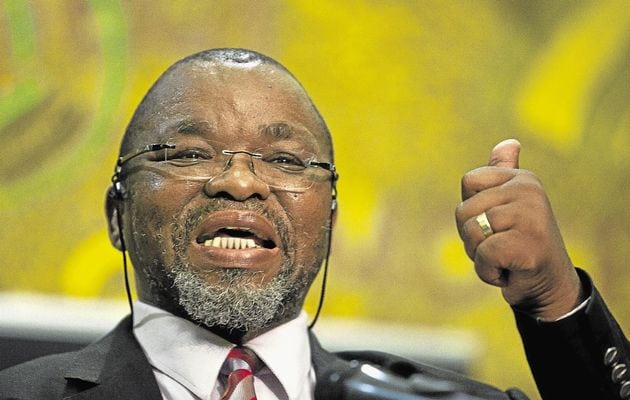 It was a brief and, apparently, "off the cuff" speech – because no official version has yet been put up on the Department of Mineral Resources website – but in 25 minutes at the CSIR on December 12 mines minister Gwede Mantashe showed he had a true understanding of the situation facing South Africa's mining sector.
I have to say I was impressed because Mantashe not only actively defended the industry – in particular the coal producers – but he took swipes at the country's energy and beneficiation policies as well as even getting in a dig over failed scrap metal export tariffs at cabinet colleague "Comrade" Rob Davies – the Minister for Trade and Industry.
What a difference from the way he came across in April when he addressed the Joburg Indaba Platinum Industry Seminar held at the Johannesburg Country Club and told delegates he did not think the platinum sector was in crisis.
Instead, Mantashe reckoned the best way for mining companies to solve all their problems was through better relationships with unions and communities.
At the time Mantashe was being lauded by the Minerals Council following his appointment as mines minister. I thought the Minerals Council had lost it and was delirious with relief following the removal of their public enemy number one – former mines minister Mosebenzi Zwane.
Mantashe – to me – sounded like a typical, hyprocitical ANC Marxist. That is, hide-bound by political ideology but pretending to be "balanced" with a "South Africa is open for investment" yarn.
With hindsight, the best assessment came from Joburg Indaba chairman Bernard Swanepoel who commented at the time, "We have never had a political heavyweight (as mines minister). So never has it been more important to have the second most senior ANC member being deployed as mines minister."
That's why I think Mantashe's comments at the launch of a book titled "The future of mining in South Africa. Sunset or Sunrise?" should be highlighted.
He defended the coal sector including the Richards Bay exporters at a time when Eskom is whining – yet again – about coal shortages. Mantashe commented; "if you are a coal exporter you will not destroy your relationship with a customer where your coal is needed for some uncertain demand in your (own) country."
That uncertain demand is due in large part to Eskom's disastrous, ideologically-driven BEE coal procurement policies which have caused mining heavyweights like Anglo American, BHP Billiton and South 32 to get out of SA's domestic coal business.
Eskom is now changing that policy but – on December 13 – primary energy division GM Dan Mashigo was whinging about how there was increased competition for Eskom-quality coal from power stations in countries like India and Pakistan.
According to Mining Weekly he commented, " Eskom is no longer always a customer of choice for our grade of coal with some miners indicating to us that they have various seaborne opportunities."
There are no prizes for working out why that is the case.
Mantashe then got stuck into the country's energy policy and beneficiation strategy citing the fact – widely known in business but apparently not understood in government – that South Africa's chrome and manganese ores are being beneficiated in Malaysia because our sky-high power tariffs do not make it economically viable to do so here.
He described South Africa's beneficiation policy as; "a dream – a mirage – that continues to disappear."
Then he acknowledged the fact that one of the reasons SA's gold industry was dying was because some of its remaining resources were "sterilised" because they were too deep to mine.
Many commentators just don't get that. They point to the fact that South Africa still hosts the world's greatest known resources of unmined gold as proof that mining here is still a "sunrise" industry. The fact that the remaining gold sits at depths greater than four kilometres and will never be mined somehow escapes them.
Finally, Mantashe made this concluding remark, "all these elements will determine whether we are a sunrise or a sunset industry. Mining will only be a sunrise industry through us doing the right things."
He is absolutely right and, so far, the ANC has done all the wrong things regarding the country's mining industry which remains its largest earner of foreign exchange and a critically important employer.
From where I sit the ANC has had it in for the mining industry on ideological grounds trying to make it pay reparations in one way or another for its perceived past "sins" from its role during the apartheid era.
Instead of supporting this vital sector of the economy during the tough economic times of the last decade the ANC has been kicking it in the teeth. The ANC seems totally unaware that much of our mining sector could easily go down the tubes like Zambia's copper industry after it was nationalised in the 1960's because of this attitude.
We'll see how things play out from here. I think the SA mining sector remains a "sunset" industry but having the "second most senior ANC member" actually grasp the reality of the situation has to be a step in the right direction.
.