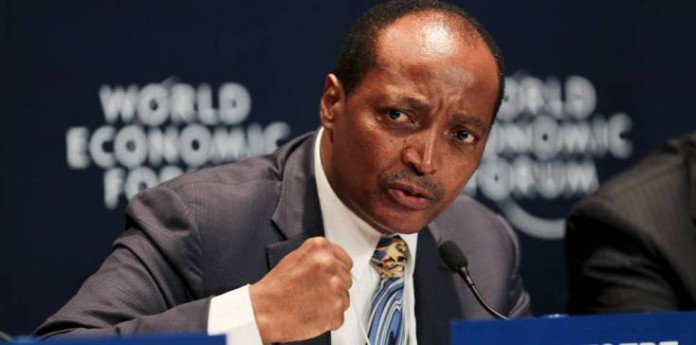 THE troubled Nkomati Nickel mine was the fly in African Rainbow Minerals' (ARM's) interim results ointment recording a headline loss of R186m and forcing the group to take an attributable impairment of R892m against the operation.
That aside, it was a solid set of results with headline earnings up 13% to R2.2bn and the interim dividend bumped up to 400c a share from the previous comparable pay out of 250c.
The good news – according to CEO Mike Schmidt – is there will not be a repeat performance from Nkomati in the second half because the mine has dealt with its adverse operational issues while the nickel price has recovered.
Nkomati was not able to sell all the metal it produced in the six months to end-December because of impurity issues exceeding customer specifications while spot nickel prices dropped from $14,940/t on July 1 last year to $10,595/t by end-December resulting in a negative mark-to-market adjustment of R158m
Costs were also boosted by a decision to step up waste stripping during November/December ahead of the traditionally rainy months of January/February but the mine will "claw back" the benefits of this extra expenditure in the remaining six months of the financial year.
Schmidt commented: "We have a lot of latitude to recover costs and it is in our hands to demonstrate a far better second half."
But Nkomati's days appear numbered and it will not see out its estimated eight years of remaining economic life although Schmidt would not provide specifics regarding the timetable to shut the mine down.
He would only comment that: "… we are in discussions with our partner (Norilsk Nickel) on the future of the mine" and "… we have no differences with our partner in terms of maximising value for the remaining life of mine."
"The mine will close itself whether it is over one year, or four years or eight years. The discussion with our partner is about how do this responsibly.
"What is nice about a closure – particularly with a mine like Nkomati – is that somewhere between 12 and 18 months prior to closure you no longer have to do any waste stripping.
"Plug that into your model and you will see it pumps money second to none and I can assure you that, based on all the studies we have done, we have more than enough cash to deal with all and every requirement in responsibly putting this mine into closure or on care and maintenance."
Sources indicate another key issue for ARM is to avoid the hefty penalties that could be due to Norilsk and the owner of the mining contracting fleet in the event of a sudden closure.
Notably absent from today's presentation was any mention of the group's on-going efforts to find a new copper project to replace the failed Lubambe mine in Zambia,
In previous presentations Motsepe has stressed that it was a priority for ARM to be in copper. He commented in September 2016 that "… we will be in copper. There are a lot of other opportunities that we are looking at, absolutely world class."
It seems that assessment has changed with ARM unable to find a suitably attractive copper project with the result that the group's search for growth projects has prioritised other commodities.
Motsepe in the past has also waxed lyrical over Harmony's proposed Wafi-Golpu copper/gold project in Papua New Guinea. ARM is the largest shareholder in Harmony holding a 14% stake.
Asked by an analyst whether ARM "would put its balance sheet at risk" in following its rights in the event that Harmony were to hold a major rights issue to fund its commitments to the multi-billion dollar Wafi-Golpu project Motsepe replied: "ARM will do only what is in the best interests of ARM shareholders".