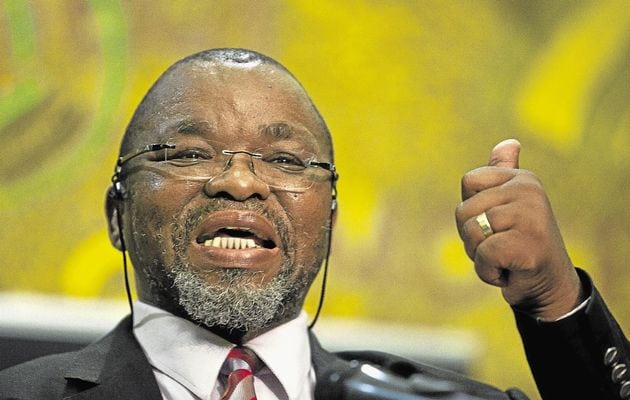 SOUTH African mines minister, Gwede Mantashe, sought to broaden the debate about the prospects for the country's electricity utility, Eskom, to one regarding 'energy security', but he simultaneously found time to promote coal projects discovered by his department.
Mantashe was last week appointed minister of the combined minerals resources and energy department, one of several departmental mergers overseen by President Cyril Ramaphosa following his successful election victory on May 8.
Questions have been raised as to whether Mantashe would influence policy regarding the use of renewable energy in favour of coal having previously stated when he was minister of mineral resources that coal ought to be supported in the face of opposition to fossil fuels.
He did nothing to dismiss that notion.
Addressing the Junior Indaba, a mining conference, today Mantashe hinted that the energy debate should consider all forms of energy supply, but he asked any investors present in the audience to speak to the Council for Geoscience (CGS), which falls under the minerals and energy department because the CGS had found new sources of coal.
"To me it is not about killing coal and growing renewables, but about promoting various technologies at our disposal. There is a combination and a co-existence of the various technologies," he said. "We must invest in finding clean coal technology. He said that if the coal gives up on its future it would die quicker than it should. "That's my argument."
He told investors to "talk to them (CGS) about what we have found on the Springbok Flats – there is rich coal deposit there," he said. The prospect had been explored before where a large amount of uranium "infection" had been detected. Mantashe added, however, that "… a large area has a good deposit; seams of 9 metres to 10m. You don't need to blast."
He also directed investors to the Molteno coalfields [in the Eastern Cape province]. "That is another one, what they have found there. They have done exploration and you can take that further," he said. The existence of coal in the Springbok Flats, located in South Africa's Limpopo province, has been identified since the early 1900s.
IRP
Asked during media question time, Mantashe said he was familiar with the contents of the Integrated Resource Plan (IRP), a document setting down the constituents of South Africa's energy supply for the next 30 years.
The last IRP was published in 2010 but a redraft has been circulating in the former Department of Energy ever since, at first combining an ambitious nuclear programme that was favoured by former president, Jacob Zuma, and then rejecting it following the appointment of Ramaphosa.
Mantashe said all options were on the table. The country would not adopt the prospect of nuclear energy unless the country could afford it, said Mantashe. But nuclear was not completely off the agenda. He was concerned at "the polemic" which framed the debate in terms of fossil fuel energy (coal) versus renewable energy.
"It [the IRP] was raised with cabinet all the time," said Mantashe. "But it is not gazetted yet. We will allow it to be finalised. It is urgent but we will look at any weaknesses. The first draft of the IRP was like an obituary for coal, but we don't intend to change everything," he said.