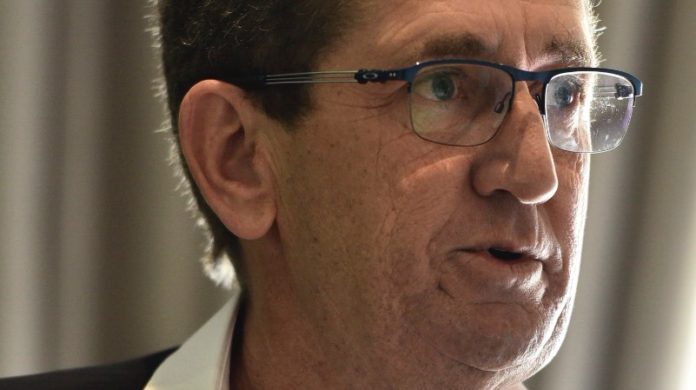 South African mines and energy minister, Gwede Mantashe, said the country hopes to capture 5% of the $10bn global exploration spend, and has promised to improve the licence application system. But with mining industry regulation continuing to be uncertain – no matter what Mantashe says – investors will continue to vote with their feet. 
THE scoreboard doesn't lie. That's the message from former Harmony Gold CEO, Bernard Swanepoel, and others when appraising the state of South Africa's exploration and junior mining sector.
Swanepoel references S&P Global Market Intelligence research on mining exploration in Africa when asked by Miningmx for his views on whether a material mining exploration industry still exists in the country. The report shows how, despite South Africa placing top of the list between 2000 and 2009 among African states' ability to attract early-stage funding, it has since dropped to sixth place.
Attracting $97.8m in exploration investment in 2018, South Africa now lags the Democratic Republic of the Congo ($269.5m) in first place, Burkina Faso ($149.10m), Ghana ($102.90m) and Côte d'Ivoire ($101.60m), and Mali ($99.60m).
Along with often-referenced policy uncertainty and political instability, the lack of tax incentives and concessions for early-stage investment are being increasingly heralded as the driver of South Africa's steady descent down the African investment register.
The fact that politically volatile DRC leads the African pack demonstrates that dodgy politics isn't enough to deter big money.
"The critical thing that the successful jurisdictions of the world do is incentivise these crazy dollars to take the high risk associated with exploration. And exploration is high risk – it's a little bit like gambling," says Swanepoel.
"Investors are more likely to invest in Canada, where there are great incentives in place, than in South Africa, where we treat investors like they are coming to steal our national treasure. The scoreboard says that we aren't incentivising the high-risk dollars, and we can either say that we don't like exploration and that's how it is or we can recognise that we have the world's greatest orebody and natural endowment and figure out what's wrong."
Even Swanepoel's Last Mile Fund, which works with Patrice Motsepe's African Rainbow Capital, won't touch risky early-stage projects: "We're caught like everybody else. If we were in exploration, we'd be in exploration elsewhere in Africa, not South Africa."
While the industry has seen the emergence of mining funds that seek to benefit from Section 12J tax legislation introduced in 2009, which allows investors to benefit from tax concessions on investments in early-stage businesses under R500m, this has resulted in limited exploration investment. While this concession was intended to encourage exploration funding, it has more commonly been put to use in other sectors, such as construction.
"This incentive was completely highjacked through process and is now used to build shopping malls. It's made no real difference and our slice of the African cake has gone down, so clearly it isn't working," says Swanepoel.
Grant Mitchell, who heads up the Junior and Emerging Miners Desk at the Minerals Council, says Section 12J is a far less effective version of international best-practice incentive structures, such as Canada's highly successful flow-through share scheme.
We're caught like everybody else. If we were in exploration, we'd be in exploration elsewhere in Africa, not South Africa
"The Canadians are the world leaders in this. If you look at the size of the junior sector in Canada, there are over 1 200 juniors listed, in Australia, over 700, and in South Africa, there are ten. It's a completely underdeveloped sector and the primary reason is because there is no incentive system," he tells Miningmx.
Addressing the Junior Indaba in early June, Managing Director of CCP 12J Managers, Paul Miller, said the success of London's AIM, the ASX and the TSX to attract early-stage funding is the product of their purpose-driven incentive schemes and the subsequent ability to develop diverse public capital markets.
In Canada, retail investors receive a tax incentive to invest in exploration, investors to London's AIM market receive capital gains tax advantages to investing in exploration, and in Australia, exploration companies receive direct grants from government.
"So, what do we have in South Africa? We have the situation where big asset managers benefit from regulation relative to small companies, resulting in 11 asset managers managing 90% of all our savings," he said, which essentially excludes this capital from reaching explorers due to minimum funding thresholds.
Encouragingly, both the Public Investment Corporation and Industrial Development Fund have indicated their intention to jointly develop a junior mining fund (with support from the Minerals Council), but visible progress is hard to come by and neither organisation responded to requests by Miningmx for an update.
BROWNFIELDS, A SAFER BET
What is clear is that while there is very little going on in greenfields exploration, brownfields projects are seemingly receiving good funding support, supporting Swanepoel's assertion that "… money goes where some of the risk has already been taken out". This involves the development of former miner projects that were started and then abandoned for various reasons.
"All the great platinum and manganese stories are not through new discoveries but rather brownfields projects of 15 years ago. I'm not aware of any exciting new projects, but that's clearly because there isn't any money being spent on it.
"If you think that the US, Canada and Australia can still have great discoveries, then the one fallacy is that we mustn't think of South Africa as fully explored. It isn't underexplored, but we're not exploring it," says Swanepoel.
BUSHVELD MINERALS
One local brownfields success story can seemingly be found in AIM-listed Bushveld Minerals, which holds three historical vanadium assets in the Bushveld Complex with a 439.6 million ton JORC resource base. The resource vanadium grades include some of the highest primary grades in the world.
In line with its ambition of developing an integrated vanadium platform, Bushveld's energy subsidiary, Bushveld Energy, is also currently proving the viability of its first utility-scale vanadium redox flow battery (VRFB) at Eskom's mini-grid in Rosherville.
Demonstrating confidence in the appetite of local investment market into projects that are further along their development trajectory, the company is now pursuing an inward listing on the JSE.
We went to London when we listed because that's where we could raise money to do exploration and develop our project, but once you are producing, it's a story that does well locally and local capital likes
Bushveld Minerals CEO, Fortune Mojapelo, says that there is a strong resonance between the company's development story and local capital markets for several reasons.
"Firstly, our assets are on the Bushveld Complex, which South African capital understands. We are also a low-cost producer with a cash-generating asset which the equity capital markets in South Africa tend to favour, as we don't have big project development high-risk capital pools in South Africa.
"We went to London when we listed because that's where we could raise money to do exploration and develop our project, but once you are producing, it's a story that does well locally and local capital likes," he says.
Across the border, Bushveld spinoff AfriTin is a good example of how exploration capital can be put to good use in a supportive mining jurisdiction. AfriTin is bringing the once-dormant Uis tin mine, in Namibia back on line, leveraging finance raised on listing in London.
The company raised a further £3m through a share placement and arranged an additional £1.7m working capital facility with its 9.5% shareholder, Bushveld Minerals, also listed in London, in May. The group will use the funds to bring the pilot plant at Uis tin mine in Namibia to first stage production on schedule in the second quarter of this year.
"We are at a transformative stage, there are not a lot of junior miners that float and then declare their resource and get into production within the first 18 months of listing, so we are quite unique in that sense for a junior miner and we look forward to growth going forward," says CEO Anthony Viljoen.