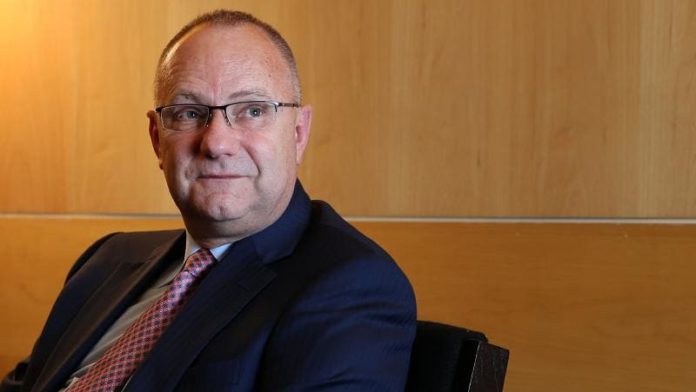 IT would be a trifle indelicate to draft Anglo American CEO, Mark Cutifani's corporate epitaph right this minute; after all, he's busy.
A 10-year technical strategy, for instance, has run for five of the six years he's been at the company, and whilst he doesn't believe the board will allow him all of the remaining five – Cutifani is 61 – he's not ready to go; not yet.
"The arrangement with the board is that it's an annual renewable," he says of his contract. "We've still got a way to go and we've not agreed on anything yet; it's open-ended." He's unworried by the question. It probably gets asked all the time.
Succession strategy is a bit of a buzzword for diversified mining firms at the moment. BHP's Andrew MacKenzie considers his time is not ripe given the challenges of the group's exposure to the Samarco joint venture disaster. Whilst at Glencore, Ivan Glasenberg has given himself about three to five more years, but otherwise kept it pretty vague. He obviously hasn't named successors, but did disclose that he had a couple or more people in mind.
The market subsequently enjoyed speculating who. There's a similar degree of rumour-mongering regarding Anglo. "For me, it's the guys who've been involved in business development such as Duncan Wanblad (CEO of base metals), or Bruce Cleaver, CEO of De Beers," said a Johannesburg analyst who, given the sensitivity of the matter, didn't want to be quoted. Stephen Pearce, Anglo's CFO, also walks and talks like a CEO, albeit in-waiting. Chris Griffith, CEO of Anglo American Platinum, anyone?
"I think we've got more than one person who can take over the role," said Cutifani. "The question is will they be ready and second, the board should always look externally to benchmark anyone. You like to mix it up." He then changes topic, politely: "I'm going to deal with the culture question now," he says.
Hint taken.
The "culture question" is the issue of what might have happened at Anglo had Cutifani failed in the early years of, say 2013 to 2015, when a technical skills deficit was identified as a critical threat. "It would be broken up," he says. "Had we not done that work we wouldn't have survived 2015."
Some four-year, 250 person-strong rehiring strategy later, it's a gauge of where Anglo has come that the group's obsession with improving mine performance has been acknowledged by analysts – somewhat more fulsomely than perhaps Cutifani is accustomed to receiving.
"We have a growing conviction around the investment case for Anglo American," said Tyler Broda, an analyst for RBC Capital Markets in a report published in late May. "The company, after six years of leadership under CEO Mark Cutifani, has remodeled itself into a streamlined company with well-positioned assets on the cost curve that has restored the historical mining skills and talent that the company was once known for."
Cutifani says acknowledgement of this sort first made itself manifest during a visit to the group's copper assets in 2018, run by Wanblad incidentally. "I had people ringing me saying it was the best mine site visit they'd been on," says Cutifani. The stock was re-rated at that point, he says.
The effort now for Anglo, which will most likely absorb most of the next five years, is the implementation of its trade-marked FutureSmart Mining, a strategy that poses the simple sounding challenge of margin improvement – Cutifani thinks 50% EBITDA margin by 2023 (42% today) – but with a multi-complex of pressure points.
To hopelessly simplify, what's going on in FutureSmart Mining is to change operating practices in such a way that there's real cost improvement, about $1bn has been conservatively pencilled in for end-2022. The next element of the strategy is innovation, or to "change the way the molecules flow through the process", as Cutifani describes it. The third part is project and de-bottlenecking implementation. It's like a complete retooling of the organisation.
For instance, FutureSmart works on reducing energy and water consumption and improving capital intensity. There's also more focus on optimising processing and orebodies than automation. Cutifani says Anglo likes to keep its intellectual property open, but bespoke technology in coarse particle flotation and novel leaching technologies are playing their part. A new take on bulk sorting is also being piloted at El Soldado, a copper mine in Chile, which could be implemented in the platinum assets if successful, according to Myle Allsop, a UBS analyst.
When people say you should sell South Africa and put your money elsewhere, I say where can I deliver this or return this to shareholders
"In our opinion, Anglo is a technology leader in mining and this positions it well medium-term," says Allsop in a report. "However, we expect the market to be sceptical with the financial targets as in the past these are often lost to cost inflation or outweighed by moves in commodity prices," he said. "It could take competitors three to four years to catch up," he added.
In order to make the strategy stick, Tony O'Neill, technical director at Anglo and Cutifani's trusted friend and ally, chairs an operating committee every two months. "Every one of the people that runs a business looks at every chart and all the big gear and the productivities … So it's sharing: De Beers sharing its good and bad with copper [division] and Kumba [Iron Ore, the Johannesburg listed company] and sharing the global information and helping each other ratchet up performance," says Cutifani.
In previous Mining Yearbooks, and in Miningmx, there has been scepticism that Cutifani could change the Anglo culture, much less make a dent. He may just have achieved a complete overhaul. "By doing what we're doing, creating a new language in the organisation and having the guys connect every two months, we're trying to leverage 90,000 people into each site in terms of performance. That's what we're trying to do."
The so-called South African discount in Anglo American's share price has long been debated. Analysts keep talking about it, as if South Africa is so separate from any other district that its risks are unique. Cutifani says that the turnaround in the group's fortunes is partly down due to the South African assets, not
despite them.
Yet talk of the impact of South Africa on the group – made more complex to contemplate lately because Vedanta chairman Anil Agarwal bought an option over Anglo shares because of its southern Africa exposure – continues to fuel debate.
"Anglo has delivered the second highest returns over the past three years," said Deutsche Bank. "However, the shares trade at the lowest multiple. While country and coal exposure are partial explanations, we believe Anglo's returns improvement and medium-term growth are deeply undervalued by the market," the bank said.
Had we not done that work Anglo wouldn't have survived 2015
It suggests that in the medium term, Anglo will still be a seller of its export thermal coal mines (which may happen). Certainly EBITDA will be 20% to 25% derived from South Africa in the 2022/23 financial years compared to about 47% in 2013.
Cutifani's view, however, is that the South African assets are a crucial cog in the Anglo machine. Yes, the group flirted with divestment of Kumba Iron Ore – a period in the firm's recent history when asset sales were being sought to kill debt and which Cutifani describes as "the pirouettes" – but now the asset is fixed. South Africa is fixed from Anglo's viewpoint.
"If I compare what we do in South Africa and the rest of the world, our margins and returns are as good as almost anywhere in the world of mining," he says. "So when people say you should sell South Africa and put your money elsewhere, I say where can I deliver this or return that to shareholders."
Nonetheless, the country isn't at a place such that it could warrant new fresh development capital from Anglo, even if there were projects in the country commanding a 19% return on capital employed, another metric through which true "performance" is measured.
Overlying this, there are restrictions on Anglo's ability to take cash out of the country owing to exchange controls, the removal of which Cutifani believes would be "an indication of South Africa's confidence in itself to compete". (He acknowledges, however, that exchange control regulations have been eased over the years).
Then there's that question: the one about the 20% voting rights Vedanta Resources and its chairman Anil Agarwal have in Anglo, built up since 2017.
The market has been willing to go along with Agarwal's comments the shares were "an investment", notwithstanding his regular urging for Anglo to joint venture with his group, or seek business opportunities in India, or even entrench its position in Southern Africa about which Agarwal is publicly supportive, Zambia troubles notwithstanding.
These comments, however, turned slightly more sinister (from an Anglo perspective) following Agarwal's questioning of Anglo's non-executive director strategy on May 1 – the day of Anglo's annual general meeting – when he voted against the appointment of a South American to the board, wanting instead someone to take a board seat who represented South Africa.
Cutifani goes into full dodging mode. (He's a great communicator, given to off-the-cuff statements that give his communications team waking nightmares, but he occasionally sticks to the script. This is one of those moments.)
"You'd better ask them" about "their conversation," he says. The board appointment was put down to the fact South America commands about 30% of all investments. As for Anglo's commitment to southern Africa, Cutifani thinks the numbers speak for themselves.
"I don't think many people understand we're the biggest investor in the country, that's one. We've never said we'd leave. And we're going to continue to make investments," he says. Anglo has committed $6bn of the $100bn investment target over five years identified by South African president, Cyril Ramaphosa, and thinks more could come.
"We train more people in the country than anyone else; we've made more commitments to small-scale entrepreneurs; we've created more transformed companies that are doing extremely well, and we're proud of that record."