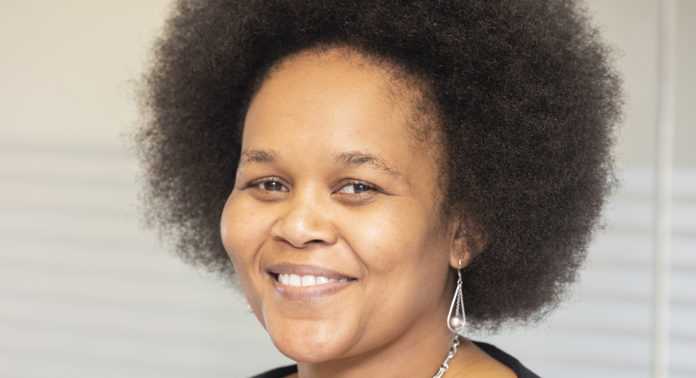 NOMFUNDO Ngwenya won't confirm whether Sibambene Coal, the consortium of which she is chairwoman, is in the mix for the South African thermal coal assets that South32 is selling, but even if the consortium doesn't end up buying them, it'll be a business worth watching.
Sibambene Coal was officially launched in March with a mandate to invest in the country's thermal coal sector. The timing was just as South32 was narrowing down its list of bidders for South African Energy Coal (SAEC), its 92%-owned coal business worth some 28 million tons/year (Mt/y) in domestic and export thermal coal.
Sibambene also sports bright yellow in its company livery, just like that of South32. And the logo looks similar … "You know what they say: if you're looking for something hard enough, you'll find it," says Ngwenya when asked if the colour symmetry was deliberate.
Regardless of a bid or not, Ngwenya says the consortium is going to figure in some way or another in the thermal and metallurgical coal sector. It has already kicked the tyres of several potential acquisitions.
It is currently picking over three or four assets – some "dressed better than others" – and hopes to have a clear idea of final targets by the end of winter, says Ngwenya. These include mines supplying Eskom which comprise about half of South Africa's 250Mt in annual coal demand. Ngwenya says Eskom could use a fresh supplier; the diversity in supply is healthy.
"I cannot imagine that it's in any South African's interest to have one or two companies that dominate supply to Eskom. It's just too risky. So when we enter the space, we would want to be an important player and a dependable supplier."
In fact, broadening ownership structures in South Africa's thermal coal market is something of Sibambene Coal's reason for being. For instance, Eskom is reliant on three companies for future coal security given that Exxaro Resources (38%), South32 (32%) and Glencore (17%) own 87% of the country's total coal resources. Add Anglo American to the pot and four companies control 75% of export entitlement through Richards Bay Coal Terminal.
Ngwenya's interest in Sibambene is as a 5% shareholder through her Inkhanyeti, a business consisting of 20 businesswomen, three of whom already run fully-fledged businesses in their own right. Other shareholders in Sibambene include Menar Group, a Luxembourg-registered entity owned by entrepreneur, Vuslat Bayoglu, and Mirospan Mining, a 100%-black owned mining services firm. Community and employee involvement is also written into the DNA of Sibambene Coal.
Mining is not new to Ngwenya, or her family. She tells of how her father, after a career at engineering firm, Boart Longyear, established a drill engineering business which he called Phuma Phambili, now run by her and her sister. A third sister is in Zambia.
"My sister has been far more hands on because I still do a lot more international work; international travelling and so on, but it's essentially my sister and myself in the business," she says. That international work is as an external consultant to the African Development Bank which has Ngwenya rubbing shoulders with some of the continent's decision-makers.
In fact, at the time of the interview, she was just back from a bank trustees meeting at which Nigeria's finance minister was in attendance, and the former foreign
minister of Tunisia. Prior to this role, Ngwenya was the chief director for African Economic Integration at the National Treasury. Increasingly, however, the call is towards Inkhanyeti.
Commenting on the formation of Inkhanyeti, Ngwenya says she was encouraged by its authenticity. "Primarily, for me, what was interesting was that Inkhanyeti was women only. You can imagine that resonated with me because of what my sister and I are doing; it's not an easy space to be as a woman.
"But more than that I liked the fact that it didn't feel like tokenism. You had women who were professionals in their own spaces; in their own rights. Some had background in mining, but some hadn't but were interested in mining.
"I just liked the idea of being involved in something where you have other partners who had the technical skills and capability … and partners who are strong just in terms of understanding what some of the socio-economic imperatives are that should be informing our thinking on mining in the 21st century."
Back to Sibambene: another socio-economic question is the ethics of chasing thermal coal given the backlash against its development.
Ngwenya acknowledges coal's role in modern society is a delicate one, but she believes society has to find a balance in the debate. Some economies cannot grow without coal. Being vociferously pro- or anti-fossil fuel represents "… such a radical jump from one to the other that it actually borders on being unrealistic".
"The concerns about coal are real. I don't think any coal miner can deny that. But at the same time we have to look at what the current possibilities are in producing cleaner technologies: how do we scale down in a way that is sustainable?
"My interest in coal is grounded on that balanced view to say in the short- to medium-term there are still opportunities. Of course, national security is critical, but I think national security goes beyond Eskom. It really goes to the real bread and butter issues that even this (national) election was about: we want jobs; we need jobs."
All eyes then on Sibambene Coal's next move. It could be greenfields or brownfields development, it'll almost certainly be within South Africa's borders, and may involve supply to Eskom. "Our ambition is very high. Anything that is for sale … regardless of the scale, we would pursue."