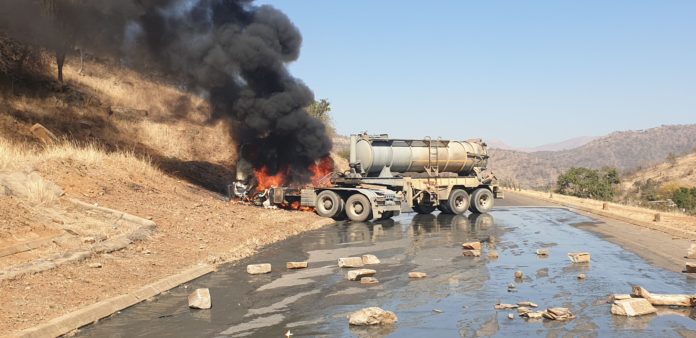 PAN African Resources reiterated its 185,000 ounce production target for the 2020 financial year, and said it would accelerate studies into new projects, but it also reported running battles with a criminal element that had disturbed the operation of its key Barberton Gold Mines located in South Africa's Mpumalanga province.
Community protests in Mpumalanga were reported widely earlier this year by the country's coal mining companies. According to the Minerals Council South Africa, disturbances involving communities, backed by politically motivated and sometimes criminal influences, had led to disruptions worth "hundreds of millions in rands".
A similar pattern was reported by Pan African today. Commenting in its year-end production update, which was positive in tone, the company said it would prosecute those responsible for leading criminal campaigns against it.
"Barberton Mines has recently experienced a number of lost production days due to its roadways being blocked and the destruction of mine property by protestors demanding employment and commercial concessions from the mine," it said.
"These protests are unrelated to normal industrial action and are initiated and supported by politicians and criminals who believe that extortion by means of violence is a legitimate social objective," it added. The South African Police had been called in to protect the mine and employees.
It issued a warning that it would "… take the appropriate action to protect its employees and assets in the interest of all its stakeholders". Interdicts have been served and further criminal and civil actions will follow against certain individuals and organisations, it said.
Away from social and political pressures, Pan African's full-year operational update represented a return to form for the group after a difficult two previous years in which the dividend was ditched. There was no mention of a dividend resumption, but Cobus Loots, CEO of Pan African, was positive in outlook.
"We continue to assess the optionality of our portfolio and are looking to build upon this year's momentum to drive further growth," said Loots in comments to the report. This included projects such as Egoli which would be expedited. Pan African was "assessing funding options".
Progress was also reported with the underground mining project feasibility study at Royal Sheba, a prospect containing an estimated 900,000 oz of gold. The company earlier abandoned a plan to develop Royal Sheba as a standalone, open-cast mine from which it had hoped to extract 300,000 oz.
Production for the 2019 financial year ended June 30 came in at 172,442 oz, slightly above guidance and 7.5% higher than in the previous year.
The performance was the function of the company's Elikhulu tailings retreatment plant, and Barberton Mines, both performing.
Production from Barberton increased by 9.6% to 99,363 oz whilst there was a 46,201 oz contribution from Elikhulu, an amount that excluded pre-production gold of 736,000 oz, capitalised as pre-production income and gold inventory locked-up in the Elikhulu circuit.