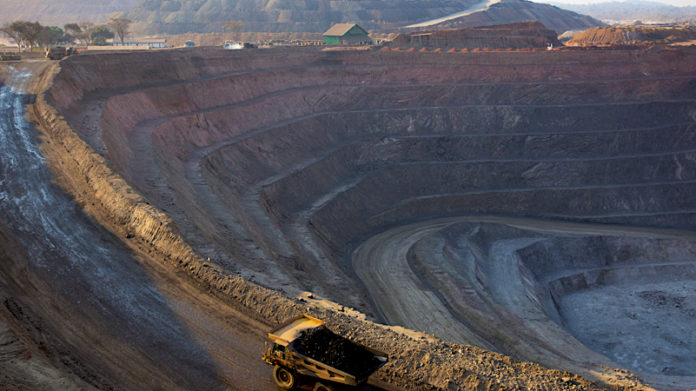 GLENCORE suffered the effects of a slump in the cobalt price and the under-performance of its African copper business which led it into a half year 32% decline in adjusted earnings before interest, tax, depreciation and amortisation (EBITDA) of $5.6bn.
In response, the Swiss-headquartered group confirmed it had put its Mutanda assets in the Democratic Republic of Congo (DRC) on care and maintenance citing an oversupply of cobalt. It also said it had developed "a credible roadmap" for its African copper business which, including the underperformance of Koniambo, a nickel mine in New Caledonia, produced negative EBITDA of $400m for the period.
Ivan Glasenberg, CEO of Glencore, reflected on a difficult six months: "Our performance in the first half reflected a challenging economic backdrop for our commodity mix, as well as operating and cost setbacks within our ramp-up/development assets," he said.
Net profit attributable to shareholders came in at $200m for the half year which Glencore said was driven by a cobalt (-$350m) and Chad oil (-$500m) related impairments.
A consequence of the decline in cobalt prices was that the marketing division held on to material it might otherwise have sold. This resulted in a mark-to-market non-cash loss of $350m without which the firm's marketing division's adjusted earnings before interest and tax (EBIT) would have been only 13% lower year-on-year versus the actual 35% decline.
Commenting on the outlook, the industrial division was expected to benefit from improved production in the second half from its copper, zinc, nickel, coal and oil business as well as the operational improvements expected from African copper and Koniambo. Excluding the effects of the cobalt stock write-down, the marketing division was heading for mid-range of its EBIT guidance of $2.2bn to $3.2bn for the year.
Credit Suisse said further negative news was likely to flow from Glencore for the remainder of the year especially in terms of production guidance given the group is expecting for a much stronger performance in the second half. (The zinc and nickel assets are forecast to provide 55% and 57% of total production in the second half). Credit Suisse also said the market may continue to be against the commodities Glencore produces.
It suggested there was a silver lining, however, especially for cobalt. "The silver lining being that this move (putting Mutanda on care and maintenance) will likely have significant positive consequences for cobalt pricing with Mutanda providing 15% of the global cobalt market," the bank said in a report.
RETURNS LOCKED IN
Glencore intended to press ahead with its planned $2bn capital return programme notwithstanding the pressure on cash flow and slight creep on net debt which was partly brought about by the faltering copper assets in the DRC and Zambia (Mopani).
Glencore doesn't pay an interim dividend as it announces a full year dividend in February – 20 US cents/share – which it pays out equally in May and September. Whilst the buy-back programme would continue, Glencore CFO, Steve Kalmin, said deleveraging the balance sheet was a priority for the group.
"The capacity to do incremental buybacks next year would play second fiddle to deleveraging the process," he said. Net debt inched up to $16.3bn, a ratio to EBITDA of 1.24x which was above the 1x ratio targeted over the next six to 12 months against an "uncertain economic backdrop".
The possibility of increasing divestments was also back on the agenda. Glencore has said in the past it had $1bn in potential asset sales provided it could get the value.
"The $1bn could increase," said Glasenberg in response to analyst questions at the half-year presentation today. "We look at that all the time. If there is demand for them [tail assets] we will always review it," he said. Interestingly, Glasenberg also acknowledged that having 150 assets was "a lot to manage".
However, the remainder of Glencore's agribusiness – in which it sold a 40% stake for $2.5bn in 2016 to fund a debt reduction programme at the time – was not likely to be sold further, said Kalman. "The ags business is important. We have the partnership there [with the Canadian Pension Plan Investment Board] and it is a business that still works well."
In act, agribusiness was a strategic business for Glencore, as well as a profitable one. "We would like to grow it over time so they [the business] will keep looking for opportunities in order to grow it," said Glasenberg. It generated $800m in annualised EBITDA on a 100% basis, and did not much capital expenditure therefore "… it should generate cash flow so let's see how that market develops in consolidation," he said.