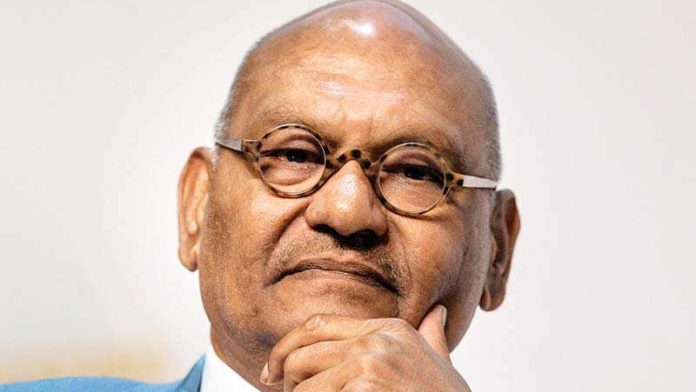 IT'S probably fair to say working for Vedanta Resources founder and executive chairman, Anil Agarwal, is tough work. In fact, so tough that few are prepared to do it for long.
A revolving door seems to front the entrance of the CEO's office, last occupied by the affable Srinivasan Venkatakrishnan (Venkat).
Venkat resigned as Vedanta CEO in March after less than a year. It was a move met with surprise if only because Venkat is renowned for his tenacity. He loves a corporate wrestle to which his efforts at Ashanti Goldfields and AngloGold Ashanti attest.
Earlier this month, Deshnee Naidoo, CEO of Vedanta Zinc International, also resigned, a decision said to be driven by a desire to have more family time, and taken before COVID-19 was declared a pandemic in March. Venkat also left for family reasons: he is currently  waiting for repatriation to Johannesburg.
There's something about working at Vedanta that leaves executives pining for the comforts of home. Tom Albanese ended three years at Vedanta – the longest a CEO has hung around in a period of seven years in which the firm has had two interim CEOs – for "family reasons". Cynthia Carroll's short stay is more easily explained: the former CEO of Anglo American, was retained to the temporary job of repositioning the aluminium business.
Vedanta is now in need of additional repositioning, marked chiefly by some vigorous debt restructuring – a task that Agarwal hopes to achieve by means of a proposed $2bn delisting in India of Vedanta Ltd. Critics say Agarwal is opportunistically buying Vedanta on the cheap following the 40% decline in its share price this year. That might well the true. As stated by Naidoo in an interview with BusinessLive, Agarwal runs the company as he likes: "It's his business, his rules."
Quite where this leaves Vedanta subsidiary, Konkola Copper Mines (KCM) is anyone's guess. At the moment, the company is entwined in court procedure and country politics following a fight between the parent company and the Zambian government over unpaid VAT receipts on the one hand, and broken investment promises on the other.
Venkat and Naidoo might have been just the people to resolve the matter, but Agarwal was never far from the action; he is the executive chairman, after all. But publishing an advert in the daily Zambia press that appeared to criticise the Zambian government seems like an impulse decision completely out of character with Venkat.
Similarly, the back-door approach on Anglo American via the Agarwal family holding company looks seems now no more than an eccentric game of entrepreneurial stratego. Talk that $500m in profits were booked from buying and selling Anglo shares is somewhat leavened by the fact the cost of the coupons on bonds alone used to engineer the purchase of the Anglo stake, cost Agarwal $300m, before other corporate costs.
The Gamsberg zinc project in South Africa looks like a success, though whether subsequent investments required to fulfil Vedanta's original vision get made depends as much on South Africa as Agarwal's debt-streamlining plans.
As for South Africa, there's an excellent CEO occupying rooms in London desperate to get back to the country. Venkat is unlikely to be short of turnaround opportunities when he does return to Johannesburg.