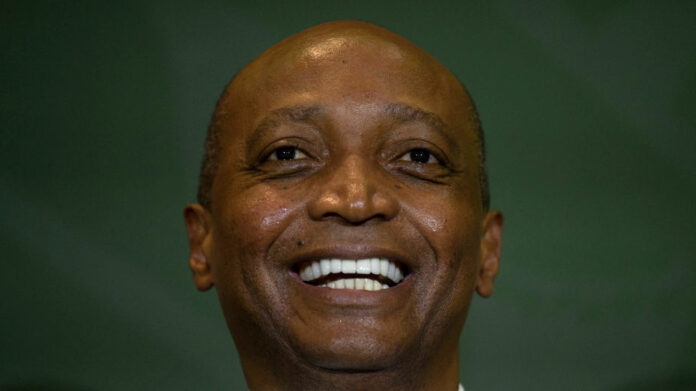 AFRICAN Rainbow Minerals (ARM) has announced a 50% increase in capital expenditure for its 2022 financial year in the first of three years of heightened expenditure, largely in an effort to grow output in platinum group metals (PGMs).
The company also said it had debated the possibility of separately listing parts of its business including iron ore and PGMs, although the latter had been a live discussion for at least seven years, ARM chairman Patrice Motsepe revealed.
Motsepe was commenting during the presentation of the firm's full year results to end-June in which the group reported a 136% lift in headline earnings to just over R13bn – a record on the back of strong PGM and iron ore prices.
As a result declared of the performance, the group announced it would pay a final dividend of R20 a share, resulting in a total annual dividend of R30/share, up 150% from R12/share in the previous financial year.
The allocation of capital was raised at the presentation with an analyst asking how cash would be used in the absence of any additional growth expenditure, including mergers and acquisitions. ARM finance director Tsundzukani Mhlanga said share buy-backs and dividends would flow in the event the group couldn't use the cash elsewhere in the business.
ARM will spend R5.8bn in its 2022 financial year and R6.1bn and R5.4bn in subsequent financial years for a total of R17.3bn. Of this amount, about R6.5bn was in growth capital.
Mhlanga said the increase in capital outlay was to contribute towards the expansion of the Two Rivers mine, an operation held in joint venture with Impala Platinum (Implats). Implats first announced the project in February.
"The main reason is the inclusion of the Merensky project at Two Rivers," said Mhlanga. "We are also expecting an increase in stay-in-business capital at Two Rivers as well as increased expenditure at the manganese and iron ore operations," she added.
ARM was also involved in the expansion of the Modikwa PGM mine which it co-owns with Anglo American Platinum.
Capital would also be absorbed completing the Black Rock manganese project with another R2.7bn allocated to the Gloria manganese project.
Transnet woes
Mike Schmidt, CEO of ARM, said problems at the state-owned freight and logistics firm Transnet, as well as water and Covid-19 challenges, limited the group's iron ore sales. "We were fortunate to be in a good iron ore stock position and could meet the increased sales volumes from (port) stockpiles," he said.
Transnet issues also hit the group's coal mines resulting in the build up of significant coal stockpiles. As with other mining companies complaining of similar problems, ARM had met with Transnet management as well as public enterprises minister, Pravin Gordhan.
Transnet said recently it was effectively "under attack" from criminal gangs who had stolen as much as 40km of copper cable in the last 14 days. "I'm very positive that Transnet will outcome this, and we are going to see improved performance," said Andre Joubert head of ARM's ferrous division.
Listing
Schmidt said there were no plans to delist ARM, but he said there was a possibility the group could list parts of its business that have a critical mass.
For example, he added that listing the iron ore or PGM assets was a debate within the group. It was then that Motsepe said that ARM had been looking at listing a separate PGM vehicle for up to seven years.