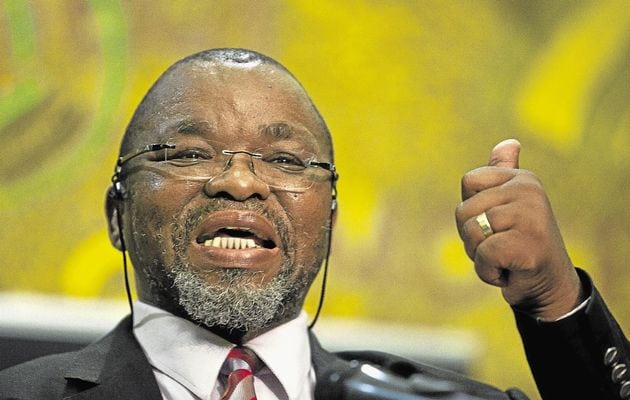 SOUTH African mines and energy minister, Gwede Mantashe, described last week's court reverse on his Mining Charter as "not a train smash". But he stopped short of saying whether the department of mineral resources and energy would launch a legal appeal.
"We had a case last week where we lost a case about 'once empowered, always empowered'. It's not a train smash," Mantashe told the Limpopo Provincial Mining Investment Conference during a keynote speech on Tuesday.
"It is not an issue of 'once empowered, always empowered' or the opposite. It is a case of whether the mining industry is creating new black capitalists or not."
Mantashe added that in discussions with the Minerals Council of South Africa, an industry body, vendor-financing new black capitalists was not always the option.
"I said to them if you are not empowering black capitalists you are empowering banks, not economic empowerment. You are empowering the banks because these blacks are indebted. The scheme must be such that we can see them, count them, touch them: new black mining capitalists," he said.
On September 21, the High Court ruled that the Mining Charter was an instrument of policy that did not entitle Mantashe to make law through it. This meant controversial new target on procurement and empowerment holdings that were introduced by Mantashe in the 2018 Mining Charter were not applicable.
Minerals owned by the people
In his address today, Mantashe also commented on the contribution of mining company taxes and royalties to the national fiscus, saying "mines are doing what they should be doing". Mineral rights were owned by the state on behalf of the people, he said.
Former finance minister Tito Mboweni said in July that the tax and royalty take from the mining sector would finance most of the government's R39bn Covid-19 relief scheme. Just two platinum group metal firms – Anglo American Platinum and Impala Platinum – announced tax payments of just short of R29bn in the last two months.
Mantashe also called on mining companies to work together more effectively on implementing labour and social plans. They ought to be pooled together and applied to 'impact' projects.
Clearly not feeling the effects of the High Court reverse last week, Mantashe was in combative mood, delivering a final recommendation to the mining sector that it was "no longer fashionable" to employ foreign workers more than South African workers. "It is a luxury to fly foreign workers in," he said.