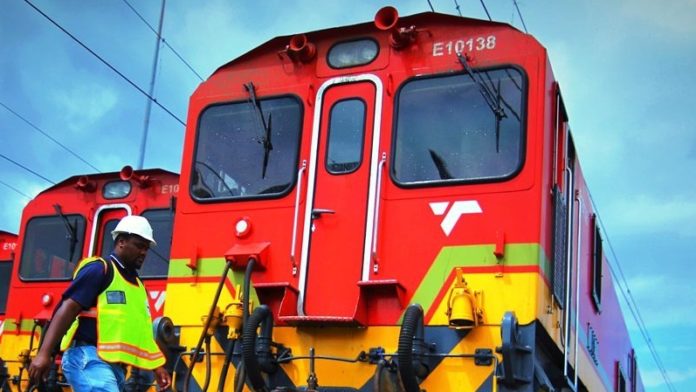 TRANSNET'S performance on iron ore exports was slammed on Wednesday by African Rainbow Mining Ferrous Division CEO, Andre Joubert who, in a presentation to the Joburg Indaba conference, spelt out the industry cost of the failing freight and logistics firm.
Joubert prefaced his comments with a number of caveats. He pointed out that Transnet Freight Rail (TFR), a division of Transnet, was now under a new management which was "much more transparent and engaging than we have experienced before".
He added the views he was about to give "… had not been endorsed by my board or any shareholders".
Then he got stuck in saying his objective was "… to stimulate the process whereby producers in South Africa and Transnet can work together to enable us as South Africans to stay competitive in this market in a situation where logistics comprise almost 40% of our current total cost of sales".
Joubert pointed out the South African iron ore industry earned $6.1bn in revenue from the seaborne iron ore trade last year, but long-stated growth aspirations were not being met.
"Transnet wants to grow exports from 60 million tons a year (Mt/y) to 67Mt/year but we are not yet achieving the 60Mt/year target. The next horizon for Transnet is to move to 76 Mt but this aspiration has been on the cards for a very long time.
"Transnet has a pretty poor track record on executing these big type of projects; it usually runs over time and over budget and that results in it not reaching its required investment thresholds and then it gets delayed."
Joubert said over the past three years against an annual capacity of 60Mt/y Transnet had managed to rail just over 58Mt/y".
He added the port facilities in Saldanha Bay had also struggled meaning exports had to be handled through multi-terminal ports as well as the bulk terminal "which adds huge costs to us as producers in terms of demurrage and inefficiencies".
"South Africa loses roughly some R5bn of revenue annually just because of that and Transnet loses a huge amount of revenue because they are not getting the tariffs they should be getting."
Keep on trucking
Turning to manganese, Joubert said Transnet had grown exports over the past six years from 13Mt to 21Mt, but  commented: "The sad part is that only 16Mt of the 21Mt was transported by rail.
"Some five million tonnes were transported by road which equates to the staggering number of 142,000 trucks per year – almost 400 trucks per day. Just imagine the risk that this puts on our roads and the damage it does to the roads."
Joubert said the answer lay in formulating a true public sector partnership with Transnet which would work together on an integrated business model.
A key component would be "take or pay" agreements with exporters to justify the amounts of capital that would have to be invested. He added that exporters should go for "long term contracting business" as a commitment to the capital investments made.