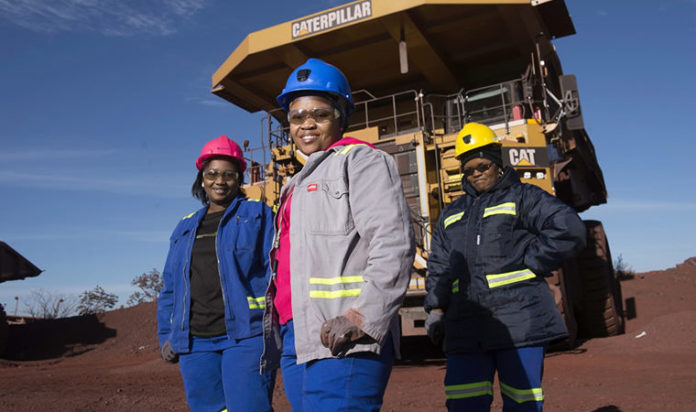 "IT'S a man's world."
James Brown sang the lyric that for decades has been repurposed to describe the global mining industry. But what is so often missed is the Godfather of soul's following line: "But it wouldn't be nothing, nothing without a woman or a girl."
As an industry battling to fill skilled and unskilled roles, it simply won't do for the mining sector to continue to fish in only half the available skills pool. We must embrace the challenge of our times, to accelerate the development of women and improve their economic outcomes; not only to right the gender balance in the sector, but to ensure we nurture and attract the best people available.
This is especially true in developing nations, where mining companies often play a large role in host economies, as providers of foreign exchange income and taxes, and creator of high paying jobs. We should leverage this influence to bring about necessary – and sustainable – improvements in workforce diversity.
Diversity, equity and inclusion (DEI) is at an inflection point across the business world. In a January report entitled Diversity Equity and Inclusion Lighthouses 2023 consulting firm McKinsey predicts corporate expenditure on DEI efforts will reach $15.4bn by 2026. But progress on gender diversity remains slow.
According to the report, the World Economic Forum (WEF) estimates that at this pace it will take 151 years to close the global economic gender gap. This deficit is evident throughout the employment pipeline in mining, where progress has been modest.
White & Case, Women in Mining and ARCH, estimate in a recent paper that over the past decade representation by women in C-suites of the top 500 listed mining companies increased by only 4.2% to 14.2%. They estimate that by 2090, at the current rate, 30% of executive roles will be occupied by women. Can we afford to wait that long?
We need to remind ourselves why gender diversity and gender equality is important.
If we step beyond the fundamental values of equality and equity, numerous studies have demonstrated that these factors also benefit financial and operating performance. Inclusion and diversity have been shown to increase competitive advantage, specifically as a growth enabler.
In 2018 McKinsey found companies in the top quartile for gender diversity on their executive teams were 21% more likely to show above-average profitability. In a cyclical industry where margins can too often be paper thin – and sometimes non-existent – this is an advantage we can't afford to pass up.
The study also found that high performing executive teams had more women in revenue-generating roles. Diversity was found to promote creativity and strategic resilience – both things our sector will need if we are to meet the ever-expanding set of challenges we face today.
But we've found it difficult to attract, retain and promote women. In yet another report, McKinsey tells us that in addition to low labour force participation – only 8% to 17% of the global mining workforce – the industry distinguishes itself in having the most dramatic drop off of all industries studied in the progression of women from entry to executive level.
Solutions?
So, what is the solution?
We must showcase the interesting and rewarding variety of roles we offer, opportunities for professional development and competitive remuneration. We must be uncompromising in equitable recruitment outcomes and in creating a work environment where everyone is physically and psychologically safe.
Outside of the workplace, it's also vital not just to encourage girls and women at our schools and universities to study STEM (science, technology, engineering, mathematics) topics, but it is increasingly important to provide them with visible role models to underscore that it is indeed possible for women to have a strong and thriving career in the industry. We must invest in workshops and mentorships for women entrepreneurs and in parallel provide support for women-led small-to-medium-enterprises to build capacity and sustainable economic growth through job creation and improved commercial incomes.
To help stem the flow of women that leave our industry before they reach middle management, we need to build a culture of support, with robust sponsorship programmes and opportunities to gain valuable operational experience and exposure to the wider business. We systematically develop and promote women and ensure workplaces that are not only physically and psychologically safe, but also welcoming to the specific differences of both the modern male and female.
Importantly, we need leadership from the top of our organisations that demonstrates a genuine intention to drive this vital change and translates the vision for a more diverse and inclusive company into goals. Senior management must be held accountable for realising that vision.
Mining companies also have a unique opportunity to work with communities to influence gender diversity and opportunities for women. The WEF's Global Gender Gap Report states that gender equality is not only a fundamental human right but is linked to a country's overall economic performance.
We can use our resources and our community investment to advance education for women, to support development of businesses owned by women and of course, to employ women, ultimately benefiting the broader community and the economy.
We remain focused on fostering a safe, inclusive and equitable workplace where everyone can thrive. It's the right thing to do and redounds to the sustainable development of the communities in which we operate.
Lisa Ali is the Chief People Officer for AngloGold Ashanti.