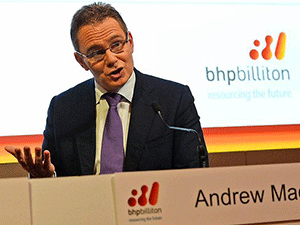 [miningmx.com] – BHP Billiton gave no indication it was reconsidering plans to demerge non-core assets and said that its progressive dividend policy would continue once the transaction was complete.
A new company, South32, is to be created consisting of assets located in southern Africa, Australia and Colombia which BHP Billiton said last year were too small to warrant significant investment.
JP Morgan, however, recently questioned whether limiting BHP Billiton's geographic and commodity exposure options was a good idea in the current market.
Andrew Mackenzie, CEO of BHP Billiton, said at the group's interim results today that the firm had long been preparing for the cyclical downturn in metals by cutting costs and that the firm's progress dividend policy would continue even after distributing shares in South32 to shareholders.
The firm increased the interim dividend 5% to 62 US cents per share and declared the correction in metals was a long time coming.
"We started to prepare for a sustained period of lower (commodity) prices almost three years ago by increasing our focus on efficiency and lowering our investment," said MacKenzie.
"Since then, we have achieved annualised productivity gains approaching $10bn and reduced capital spending by almost 40%," he said.
BHP Billiton's profit from operations decreased by 31.8% for the six months ended December 2014 to $8.8bn compared with the year-earlier period. Diluted headline earnings per share fell to 89.5c from 147.2c previously.
"We have seen rapid improvement across all of our major businesses. For example, in the last six months alone we have cut unit costs at Western Australia Iron Ore by 29% to nearly $20/t, achieving an underlying operating profit margin of 49%, despite the structural shift in prices," he said.
"Simplification will ensure BHP Billiton's organisation, systems and processes are dedicated to its core assets, allowing us to further improve their productivity.
"Meanwhile, South32 will benefit from a dedicated management team who can tailor their strategy to suit their own distinct portfolio," he said.