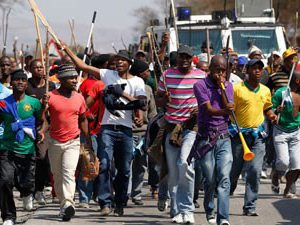 [miningmx.com] – THE 19 week strike in the platinum sector could not go on forever, said Joseph Mathunjwa, president of the Association of Mineworkers and Construction Union (AMCU).
Commenting in an article by newswire Sapa on talks motivated by South African mines minister, Ngoako Ramatohodi, Mathunjwa added: "The process is ongoing". He could not say if a deal was on the cards yet and declined to say if negotiations with mining bosses were fruitful, said Sapa.
"I don't want to speak for the companies. The minister has to meet them and speak to them,' Mathunjwa told Sapa.
Click here to read the full article