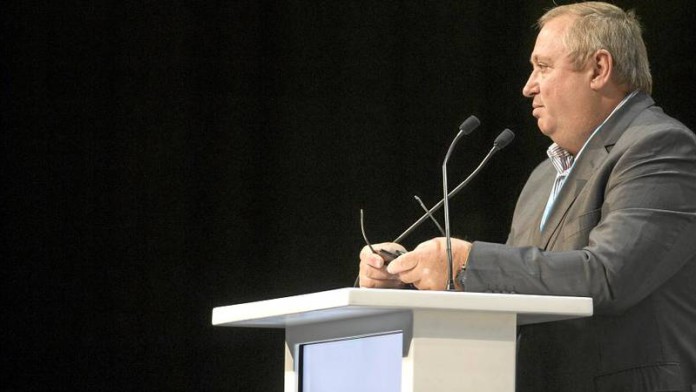 EVEN by Neal Froneman's merger and acquisition standards, the last 12 months have been astonishing for the Sibanye-Stillwater boss.
In December 2016, he unveiled one of the largest outlays for another company seen in South African commerce, let alone its mining sector, with the R30bn-odd swoop on US palladium and platinum firm, Stillwater Mining. In a stroke, as they say, the transaction internationalised Sibanye whilst lifting its platinum group metals (PGM) output around 50% to 1.6 million ounces a year.
That was on December 9. On the same day, facing analysts and media at the Johannesburg Stock Exchange presentation, he said: "We're not done with the PGM strategy". He later alluded to a gap of not having direct mine-to-market access. Most watching this were fairly convinced Froneman's comment was a reference to Lonmin, the stuttering compatriot which had so much spare processing capacity that it undertook in August to sell 500,000 ounces/year of smelting usage just in order to stay afloat.
The only question was when Froneman would play his Lonmin card? Surely not this year. Definitely not.
In October, Sibanye-Stillwater (as the company was now called) announced it would post a R1.6bn loss for its 2017 financial year, partly owing to a $1bn rights issue which part funded the Stillwater deal. There were also impairments totalling R2.8bn relating to the proposed restructuring of the Cooke 1 to 3 shafts and Beatrix West. Froneman doesn't fiddle when there's a fire in the city. About 7,000 jobs were soon cut.
Meanwhile, a $1bn bond Sibanye issued in order to pay for the outstanding on the Stillwater deal was turning investors off. They fled the stock and raised the question as to whether 2017 gotten big on Froneman? Surely it was time to fold away the World Atlas of Mining Targets and get down to the business of turning a profit?
A R1.3bn deal with DRDGold, in which Sibanye swapped some of its tailings assets for shares in the gold retreatment firm – with an option to buy control –  should have been a sign that the year wasn't quite done. There was some chit-chat that a major transaction might still occur; then the chit-chat died down a bit. Some journalists even went on an early holiday (foolishly).
Then on December 14, Sibanye-Stillwater unveiled its all-share takeover offer for Lonmin via a scheme of arrangement which valued it at about £285m. This represented a 57% premium on the closing Lonmin price of 63.8 pence on December 13 and a 41% premium to the 30-day trading volume weighted average price per Lonmin share of 71.1p for the period ended December 13.
Analysts had differing views on whether Sibanye-Stillwater's offer represented a fair valuation. For Macquarie, the offer valued Lonmin at significantly higher than its valuation and therefore requiring significant synergies to extract value. For BMO Capital Markets, Sibanye-Stillwater came in at below its valuation, but at a depressed platinum price.
Both highlighted the regulatory risk attached with getting a deal away that could see the retrenchment of about 12,600 jobs as Sibanye-Stillwater's cut capital spending back and closed shafts at Marikana including Newman and Hossy. The expansion at Rowland was also not in Sibanye-Stillwater's mine plan for Lonmin; nor the K4 development either, or any mining plans for the newly acquired Pandora ground.
Assuming consummation of the transaction, Sibanye-Stillwater becomes the world's second largest PGM producer, just behind Anglo American Platinum, with some 2.8 million oz/year of capacity under its belt, although how much of these ounces would be kept online is another matter. Cutting production would only help Sibanye-Stillwater's PGM strategy which hinges, in the end, on timing the platinum market correctly.
The politics of this transaction are fascinating. Mines minister, Mosebenzi Zwane, who is being sued in his personal capacity by Sibanye-Stillwater – a decision driven directly by Froneman himself – must be wondering whether he has rope enough left to piously join the mining unions in the inevitable kick-back against the Lonmin transaction. If ever there was an asset that could be nationalised – as Joseph Mathunjwa of the Association of Mineworkers & Construction Union has wanted – this would be it, especially as the state-owned Public Investment Corporation already owns 30% of Lonmin.
And oh for the thoughts of Cyril Ramaphosa, the newly elected head of the African National Congress who must feel conflicted in his feelings for Lonmin – a company in which he was once invested? Criticised heavily for advising Lonmin to deal decisively with protesting employees in 2012, does he intellectually vote for Lonmin's absorption into Sibanye-Stillwater accepting that job losses are its best means of survival?
That, however, is another discussion. Froneman was a serial headline-grabber in 2017. It will be interesting to see the tone he adopts now as his precious metal empire bristles and glistens in the sunlight of 2018.