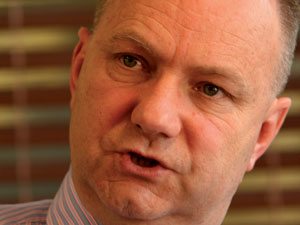 [miningmx.com] – HAVING lived in South Africa for several years, if there is one thing that I know about South Africans, it is that they debate the big issues with great passion. Fortunately so, because the challenges facing us today are critical for the mining industry, and even more so for the country.
Our ability to debate and question, be constructive but direct, will shape how – and how quickly – we are able to transition from a relatively low productivity country to Africa's finest productivity destination, and one that is able to hold its own in global competitiveness rankings.
Our future depends on the ability of our people and leaders to stand up, be accountable and be prepared to give and take some hard words.
Nowhere is this more pertinent than in the mining industry. Mining (and the products of mining) drives 45% of the world's economy, disturbs less than 1% of the world's surface, and is absolutely critical to our daily lives and the future of our civilisation.
In South Africa, more than 13 million people depend on the value it generates. But as an industry and as a country, we face three tough truths:
1. Most parties outside of South Africa are not vested in our forward-looking success beyond their own interests, and we cannot look to them to build our future.
2. We have, by Citibank estimates, the largest minerals inventory in the world, but are ranked outside the top 50 mining jurisdictions in the world. We need to look inside ourselves to understand why.
3. We have come a long way in the last two years in terms of policy debates but there are still several major issues that we have to resolve. Until then, the world will not look differently at South Africa, particularly in the context of the mining industry.
Facing those truths, and coming together to interrogate those issues constructively and openly, is the mark of a country that is truly prepared to do what it takes to create the future we all want.
Every one of us must look in the mirror and ask ourselves, what brought us to this point? What did we get right, or wrong? What have we done to make a difference, and do we understand what we need to do better?
This is particularly relevant for the mineral resources sector.
Between 2007 and 2012 alone, real value in terms of the prices of our companies listed on the JSE declined 30%, and yet the rest of the JSE performed exceptionally well.
No one can afford to stand by and let the next 10 years be another "lost decade' for this industry. We have to be clear about where we are and what we see over the next ten years in terms of change and modernisation, and we have to bring everyone with us.
South Africa has the opportunity to demonstrate its leadership, both in terms of the way it structures the country for business, and more importantly, in the way it structures the country for growth.
In my view, the mining industry has an opportunity to be the leader in that debate. In fact, given what we represent to the country, we simply must stand up and argue and debate and collaborate.
The future is ours to create and no one else will do it for us. Now is the moment to take that opportunity and make this the country that we all dream it can be.
Mark Cutifani was appointed CEO of Anglo American in 2012. He was previously CEO of AngloGold Ashanti Limited, a position he held since 2007. Before joining AngloGold Ashanti, Mark Cutifani was COO at Vale Inco where he was responsible for Vale's global nickel business. Prior to this he held senior executive positions with the Normandy Group, Sons of Gwalia, Western Mining Corporation, Kalgoorlie Consolidated Gold Mines and CRA (Rio Tinto).
He graduated from Wollongong University, New South Wales, with a BSc in Engineering and in 2013, was awarded an honorary doctorate.
This article was published as one of two expert forewords to Miningmx's 2015 edition of Rainmakers & Potstirrers.