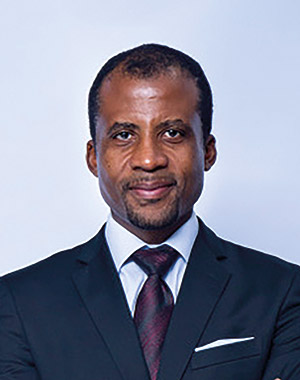 Fortune

Mojapelo
CEO: Bushveld Minerals
'Our convictions about the future of vanadium are very, very strong'
ENTREPRENEURS are by definition optimistic, but Fortune Mojapelo's upbeat take on Bushveld Minerals was repeatedly undone by unforeseen events last year. The major disappointment was an adjustment in September to its 2022 vanadium production forecast of 4,200 - 4,400 tons to 3,900 - 4,100 tons. By this point, investors were already voting with their feet. By year-end, shares in Bushveld lost about 48%, a development that poses questions over its ability to raise finance for its growth ambitions.
Mojapelo shelved a R2.3bn expansion aimed at taking annual vanadium production to just over 8,000 tons, focusing instead on an annual run-rate of 5,000 - 5,400 tons. In a signal that fundraising is proving problematic, especially while production promises are being broken, Mojapelo ring-fenced the firm's promising energy business - Bushveld Energy - which is focused on supplying a specialised vanadium product for downstream battery production known as redox flow batteries (VRFB).
A downstream investment in VRFB technology was also sold by Bushveld Energy in November, raising $19.3m. Bushveld's bread and butter business is the production of pelletised vanadium - or Nitrovan - from its Vametco facilities situated near Brits in South Africa's North West province, and grades of oxide from Vanchem, a plant near Emalahleni in Mpumalanga province. These products service the steelmaking business, where vanadium is used as a hardening agent. It's this that Mojapelo has to get right first, one feels.
That's not easy in South Africa's unsteady business environment of employee protests, community unrest and Eskom's unsettling energy curtailment regime. But there will be assistance from the market as China emerges from its Covid lockdowns. Analysts think the steel-chain business, including iron-ore pricing, will revive lustily in 2023.
LIFE OF FORTUNE
Mojapelo has a background as a management consultant at McKinsey, where he worked on corporate strategy and organisational development for companies in South Africa and Nigeria. He joined McKinsey soon after taking a BSc in Actuarial Science from the University of Cape Town. He cofounded Bushveld Minerals with Mikhail Nikomarov, who is also ex-McKinsey, in 2015-2016, and is the cofounder, with Anthony Viljoen, of VM Investments, an investment and advisory company focused on mining projects in Africa.
More Rainmakers & Potstirrers