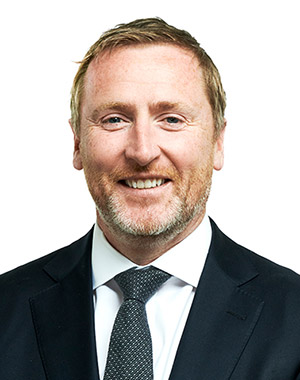 Martin

Horgan
CEO: Centamin
'We're ready to step on to the pitch. We're match fit and we're ready to go'
SHAREHOLDERS will have to wait until mid-2023 for news of the economic feasibility of Centamin's proposed 151,000 ounce a year Doporo project in Côte d'Ivoire. This was after drilling results in November recognised the possibility of producing higher-grade gold, as well as there being scope for improved processing configurations potentially lowering the project's $275m capital cost. Doporo represents another feather in the cap of Centamin CEO Martin Horgan, who has helped revive the fortunes of the UK-listed firm. Important in this was the stabilisation of Centamin's operating flywheel, the Sukari mine in Egypt.
A $25m to $35m project is being rolled out to expand the mine's underground production and help Sukari sustainably produce 500,000 ounces of gold a year - output it has undershot for years. Ramp-up is expected next year and full production is scheduled for 2025. That's critical to maintain the annual $100m minimum dividend Horgan has promised investors. On matters of strategy, however, he has raised the possibility of Centamin doing deals.
Having stabilised Sukari and given Doporo greater economic and technical definition, the company ought now to consider external growth, he said in an interview with Miningmx: "There is an opportunity to get ourselves larger, more liquid, and cement our place as a premium-listed company." ESG matters are also pressing, and Centamin recently opened discussions with the Egyptian government for the supply of grid power to Sukari. This would supplement its 36MW renewable solar installation - an initiative that saves it 22 million litres a year in diesel. In a combination of its ESG and expansion imperatives, Centamin signed a $150m sustainability-linked revolving credit facility with bankers in December aim. The company said the facility was to fund an "identified growth pipeline".
LIFE OF MARTIN
Horgan claimed the headlines after selling Toro Gold, a company he cofounded, to Resolute Mining in 2019 for $274m. Now, however, he's proving his stripes at Centamin, having taken over the company in April 2020. Horgan, a University of Leeds graduate in mining engineering, was previously executive director of BDI Mining, an AIM-listed diamond producer. From 2000 to 2006, he was a mining finance banker at Barclays Capital. A born-and-bred Mancunian, he is a lifelong supporter of Manchester United Football Club, hence his fondness for speaking in footie terms.
More Rainmakers & Potstirrers