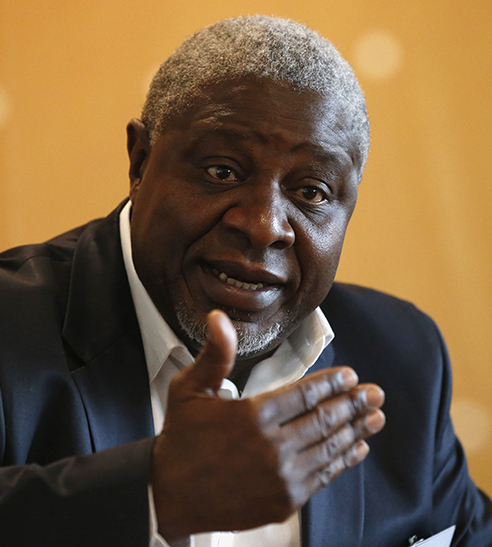 Sipho

Nkosi
Chairperson: Sasol
'The big question remains: Is Nkosi willing to soil his impeccable reputation by serving in a task team that moves at a snail's pace, or will he crack the whip to get the wheels moving faster?'
CORPORATE South Africa rejoiced when President Cyril Ramaphosa announced, in his 2022 State of the Nation address, the appointment of business leader Sipho Nkosi to the presidency. Nkosi is chairperson of petrochemical giant Sasol. His brief was to set up a team in Ramaphosa's office to cut red tape across government, identify reforms and establish processes to ensure government departments pay suppliers within the required 30 days.
Ramaphosa chose Nkosi because of his proven track record in business management. He comes with a wealth of experience: he was formerly president of the Minerals Council, CEO of coal giant Exxaro Resources, and is currently a board member of Sanlam. There have been high hopes that Nkosi's prowess in the business world will steer much-needed change to unlock billions in potential investment and remove the stumbling blocks to economic growth and job creation.
However, it has been a year into Nkosi's appointment and details on the red tape task team's progress have been scant. The president has also not yet publicly announced its terms of reference, scope or authority. At a parliamentary briefing in November this year – the first feedback since the red-tape team's establishment – Nkosi said it would focus on three priority areas in the coming months, including the mining and prospecting rights licensing system. But by his own admission, his team is under-resourced and has limited powers. It has neither the capacity nor the mandate to engage directly with the public and small business.
It would be a pity if Nkosi's impeccable track record in the business world were to become tarnished due to his association with a government best known for empty promises and inertia. Interestingly, the Department of Mineral Resources and Energy recently said mining permit backlog had been reduced 43% to 2,625 applications.
LIFE OF SIPHO
Nkosi holds an honours degree in economics from Unisa and an MBA from the University of Massachusetts. He has close to four decades' experience on the operational, financial, logistics and marketing side of the extraction and energy sectors in both South Africa and abroad. Prior to serving as chair at Sasol – a position he has occupied since 2019 – Nkosi was CEO of Exxaro Resources for 10 years. In addition to his business interests, he serves on the board of the KwaZulu-Natal Philharmonic Orchestra.
More Rainmakers & Potstirrers