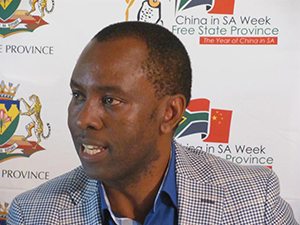 [miningmx.com] – SOUTH African mines minister, Mosebenzi Zwane, is confident that his country's government and stakeholders will settle the "once-empowered, always-empowered" principle outside of court.
At a press conference on the sidelines of the Mining Indaba conference, Zwane said government has taken a stance that it was in the interest of all affected parties to settle the matter out of court. He wouldn't confirm if the court application launched by the Chamber of Mines of South Africa has been formally withdrawn.
"The technicality of the matter hasn't been dealt with. We believe the chamber will withdraw and settle out of court," said Zwane.
Peter Leon, partner and co-head at Herbert Smith Freehills, told Miningmx the Department of Mineral Resources (DMR) had not put a formal offer on the table and that the court case is to be heard on 14 March this year.
The DMR's view is that if BEE shareholders sold their shares after they received them, the mining company would have to go through the whole BEE process again from scratch.
The Chamber, in turn, seeks a court ruling on the matter, claiming that if there is no "once-empowered, always-empowered" principle in place, it is unfair to mining companies.
GUPTAS
Zwane, who is said to have strong ties with the influential Gupta family, was also asked to clarify the nature of his relationship with them.
This comes after Zwane travelled with a delegation from the Gupta-owned mining company Tegeta Exploration and Resources to visit Glencore in Switzerland to negotiate the purchase of Optimum Colliery.
"My relationship with the Gupta family is like my relationship with Mark Cutifani or Ivan Glassenburg or any other CEO in the industry," said Zwane.
"I engage with them on issues of interest, asking them to invest more in South Africa, as I have done with a number of CEOs during this indaba.
"And I'll continue to move to other countries and continue talking to them attracting investment. That shouldn't be an issue," he said.
OPTIMUM
Asked about his intervention in the sale of the Optimum, Zwane said it untrue that he instructed Glencore's CEO to allow the transaction to take place.
"I don't see how people think I can prescribe to the CEO what to do. Optimum was in business rescue.
"It needed rescue in a particular way. The only player who was willing to rescue was Tegeta. But I don't know where the issue of my instructing comes from."
Zwane, who has been mines minister for the past four months, delivered the opening address at the Mining Indaba, which commenced in Cape Town this morning.
In his speech he said mining companies during the resource boom in the 2000s squandered the opportunity to plan ahead for the current slump in commodity prices.
"There are ebbs and flows in life. There are sunny days and there are grey days. It's now winter and some say we're in a crisis. The mining industry is cyclical and we should have prepared better for the winter months while it was summer," he said.
Zwane said four months into his tenure as minister of mineral resources he has a good idea of the challenges facing the mining industry.
"I had robust discussions with stakeholders and I appreciate that regulatory certainty is crucial. That's why we as a government have prioritised the Minerals and Petroleum Resources Development Bill (MPRDA) to entrench certainty in the industry," he said.
Leon said the minister "made all the right noises" in his speech. "But the fact of the matter is: no one really knows where the MPRDA bill is currently at. MPs don't know what to do with the bill and there's a lot of back and forth going."