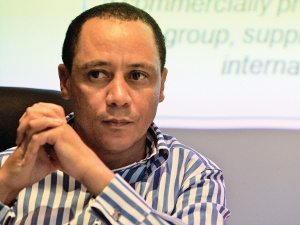 [miningmx.com] – SOUTH African mines minister Mosebenzi Zwane could be more proactive and engage with the industry on crucial matters, such as the future sustainability of the industry and legislation.
The Chamber of Mines chairman, Mike Teke, told journalists during a questions and answers session at the Mining Indaba conference that it was imperative that ministers should have a good understanding of their agendas.
Zwane has been in office for the past four months, unexpectedly replacing Ngoako Ramatlhodi, who introduced a level of consistency to relations between business and the government.
"Zwane is a guy we can do business with," Teke said in response to a question. "But right now we're worried about the sustainabiity of the industry and the future of mining.
"We need to have discussions about how we can accelerate exploration. We want to know where exactly we stand with the MPRDA bill."
In January last year, President Jacob Zuma referred the Mineral and Petroleum Resources Development Act (MPRDA) Amendment Bill back to parliament due to problems with its constitutionality. The Bill has since stalled at the level of the National Council of Provinces (NCOP).
Teke said it's imperative that the industry knows what is causing the Bill's delay. "The minister should be asking if he can engage us on for example Section 26 – beneficiation. Is it a language or a fundamental issue that's impacting on the country?"
"ONCE EMPOWERED …'
On the issue of the differing views between the government and the industry on empowerment and compliance with the Mining Charter, the Chamber confirmed they were in discussion with Zwane about an out of court settlement clarifying the empowerment clauses in the Mining Charter.
"This is a critically important issue and has an impact on future investment in this industry," Roger Baxter, the Chamber's CEO, said. "Shareholders and investors can't be expected to perpetually re-empower all the time if shareholders are selling out.
"Either way, we need certainty that if we were to progress on the transformation agenda to ensure it goes forward on the understanding of a clear interpretation of the principle."