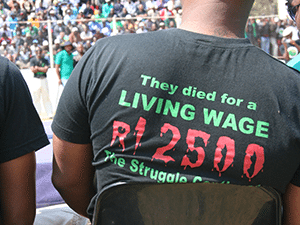 [miningmx.com] – BEN Magara, CEO of Lonmin, declared himself "cautiously optimistic" about the prospect for a fair wage settlement with unions when the industry's largest three producers begin negotiations from May.
Impala Platinum and Anglo American Platinum, as well as Lonmin, concluded a three-year wage agreement in 2014 which expires this year. Talks are just about to start on the issue of a neutral negotiating venue.
The wage settlement provided for a R1,000 increase for the first three years for the two lowest bands of categories. Other categories received between 7.5% and 8%, while benefits and allowances will be fixed or rise with inflation.
Said Magara: "Two years down the line, I can honestly say we've worked hard at building better relationships. But we want union leaders to realise what the situation is in the platinum industry.
"We need to take tough decisions to survive, but I take comfort from the fact that we managed to downsize our workforce last year without facing industrial stoppages," he said of Lonmin's announcement in October that it would cut 6,000 jobs.
According to the Chamber of Mines, roughly 80% of the platinum industry was not making money at the current basket of platinum group metals, even with the decline in the value of the rand against the dollar.
Magara was speaking in a session at the Mining Indaba conference in Cape Town in which the prospects for platinum group metals (PGMs) were also discussed.
Stephen Forrest, director and analyst at market consultancy, SFA, asked participants about their strategies to manage the current commodity price downturn.
Magara said it had now become more critical than ever to mine for value and not volumes. "Until the platinum price improves, we shouldn't continue to mine," he said. "We took a bold decision to continue with production at our shafts with good output levels and shut down the loss-making, high cost ones," he said.
Steve Phiri, CEO of Royal Bafokeng Platinum, believed there was an oversupply in the platinum market. "We talk about supply and demand; deficit and oversupply. It's not certain where we are currently, but if there's a deficit why aren't the prices going up? We need to balance the stakes," he said.
Northam Platinum CEO, Paul Dunne, said platinum producers should take cognisance of the fact that projects in the industry should be long term and require large investments. "It's not easy to turn on the tap when the market changes. Northam wants to be the first when the market changes," he said.
Forrest added that although demand in the platinum industry may only pick up a few years down the line there are indeed "exciting under-currents".
"It looks like there's going to be a strong recovery in emerging markets, especially in the auto sector with emission standards and a greater level of stringency," he said.
India, for example has decided to leapfrog to Euro 6 standards (European emission standards which define the acceptable limits for exhaust emissions of new vehicles). This will increase the demand for diesel share which in turn will mean an uptick in the use of diesel catalytic converters which contain platinum among other metals.