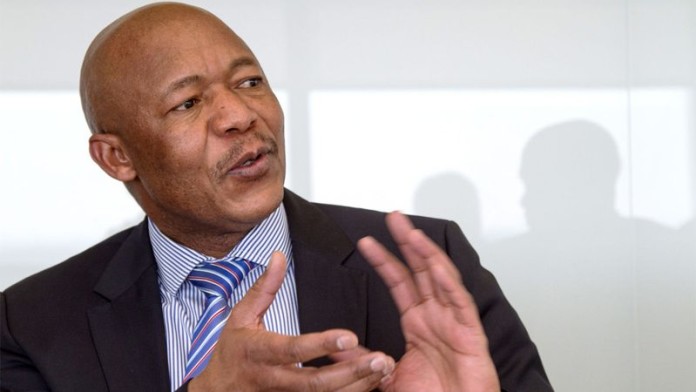 SHARES in Lonmin were under renewed pressure amid comments attributed to Daniel Matjila, CEO of the Public Investment Corporation (PIC), that the platinum miner ought to shift its primary listing to Johannesburg to save costs.
Matjila, in an interview with Reuters, also said that Lonmin should assent to having two PIC representatives appointed to its board in line with its 30% shareholding in the company. The stake was built up last year after the PIC under-wrote a $400m rights offer that was under subscribed by other shareholders.
"We are a 30% shareholder, so we can ask for at least two board seats," Matjila told Reuters. "We will do it soon. It has become an urgent matter now." He added that Lonmin "… may put (in) conditions like asking for more money".
Wendy Tlou, spokeswoman for Lonmin, told Miningmx : "The PIC is a significant shareholder of Lonmin. We would not want to comment on any statement they might wish to make as we do engage with the PIC regularly as a shareholder". This response had previously been given to Reuters in its report.
Shares in Lonmin, which currently has its primary listing in London, were just over 7% weaker in Johannesburg taking its losses for the last 30 days to about 37%. The last few weeks have been a rough period for the company.
Whilst the primary concern at Lonmin is its future solvency, Matjila's comments also suggest the PIC wants first-hand involvement in some of the crucial decision-making that the Lonmin board may be considering, such as the extent and manner of a shaft review announced on November 3.
Amid a non-cash impairment had taken the value of the business to $1.1bn – the minimum required by lenders who recently waived two covenant tests – Lonmin said it would seek to cut costs further. As a result, it was unable to publish its year-end numbers as previously planned and in terms of UK regulations had three months in order to do so – meaning that the numbers had to be published by January 31.
Analysts think a fourth rights issue is becoming increasingly inevitable.
Citi analyst, Johann Steyn, said in a report earlier this month, titled 'Fourth rights issue in the offing?', that although rand weakness might lift the price received for the basket of platinum group metals, Lonmin had capital commitments over the next three years of R4.5bn. Owing to cuts in development capex, available ore had also fallen to an average of some 19 months compared to 22 months previously.
Said Goldman Sachs in a report: "While liquidity is sufficient, on our estimates, Lonmin continues to burn cash which means the balance sheet could soon become stretched". The firm had a convenient waiver from lenders but the balance sheet looked to be in danger.  "We continue to believe the company will have to tap capital markets in the near future," the bank said in its report.
There's evidence elsewhere that Lonmin's financial constraints are affecting all areas of the business including compliance and even the protection of its employees.
Earlier this week it emerged in a report by Fin24 that South Africa's Department of Mineral Resources (DMR) was weighing whether the company was in breach of its social and labour plans following allegations in a letter by Mining Forum SA. A spokesman for mines minister, Mosebenzi Zwane, said the claims of non-compliance needed to be verified.
There were also reports in October that BASF, the German chemicals manufacturer, might stop buying platinum from London owing to concerns about its ability to deliver on its social commitments. Lonmin dismissed the report, but it said in an internal study during March that sexual harassment of female employees at the company's facilities, near Rustenburg in the North West province, was "common and pervasive".