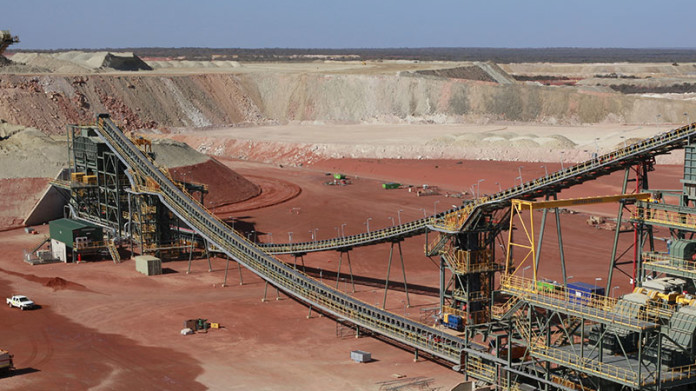 ANGLOGOLD Ashanti has approved the A$48m expansion and extension of gold production from its 70%-owned Tropicana gold mine, situated in western Australia.
The group said in an announcement today that a combination of certain mining techniques and investment in new plant would see Tropicana add 2.1 million ounces to its business plan and extend its mine life by about seven years to 2027. Gold production is forecast to be between 478,000 and 492,000 ounces on a 100% basis in the next year.
Gold output would then increase to between 530,000 and 548,000 oz in 2019 on a 100% basis. When the project was first scoped it was planned as a 320,000 oz-odd mine. AngloGold is in joint venture on Tropicana with Independence Group, an Australian-listed company.
"This project is in line with our approach of developing cost effective brownfield projects with attractive payback periods that extend life and improve margins," said Michael Erickson, senior vice president Australia at AngloGold. The further extension of gold production from Tropicana through existing resources and regional exploration would also be developed through the expanded footprint, he said.
AngloGold said total gold produced over Tropicana's remaining life would be four million oz, excluding potential underground production at the so-called Boston Shake orebody. A scoping study ahead of a prefeasibility study on opening up this underground potential would be undertaken in 2018.
Referred to as the Long Island mining strategy, AngloGold and Independence Group employs strip mining in which waste is backfilled in the existing pit. This cuts down trucking times and costs. There will be an increase in the mining rate so the partners have decided to install a 6MW ball mill in the processing plant. This will enable throughput to be matched to the higher mining rate and improved gold recovery up up to 3% to about 92%.
The total capital expenditure of installing the ball mill is anticipated to be A$28m, which will be shared proportionally between the partners. This capital number includes equipment, construction cost and spares. The new mill is scheduled to be commissioned in the fourth quarter of 2018, said AngloGold Ashanti.
The brownfield project sees AngloGold continue to refine its overall portfolio of interests. On the same day as this announcement, Harmony Gold said the availability of a circular regarding its acquisition of Moab Khotsong from AngloGold for $300m was now available to shareholders.
Once fully completed, the sale of the mine will leave AngloGold with a more globally balanced portfolio instead of its South African heavy exposure. Total South African production will reduce to about 450,000 oz/year from 967,000 oz whilst its mineral resources will fall to 57.9 million oz equal to 30% of group resources compared to 38% of total group mineral resources prior to the transactions.
Whilst AngloGold said it had a significant project pipeline, it's still worth noting that excluding an extension project at Mponeng, the projects are in Colombia, the Democratic Republic of Congo, Ghana, Guinea and Australia. In 2016, it put its Obuasi mine on care and maintenance but also opened Kibali in joint venture with Randgold Resources.