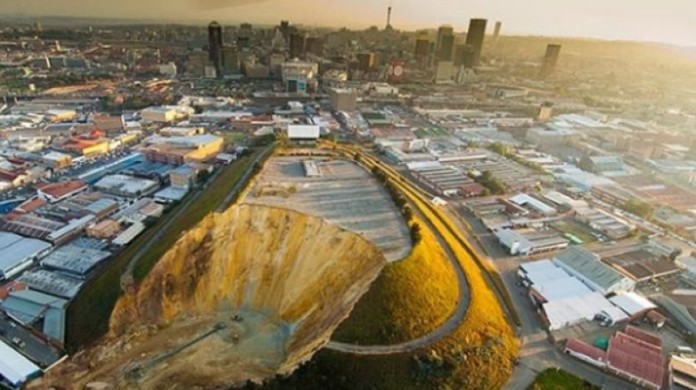 SIBANYE-Stillwater's unstinting deal odyssey continued today after the firm unveiled a partnership with DRDGold in which it will vend surface gold resources into a partnership in return for a 38% stake in the gold retreatment company. The deal is valued at R1.3bn.
Neal Froneman, CEO of Sibanye-Stillwater, said in an announcement that the combination of the two businesses had international scope. "We are excited about the inherent potential in the investment and look forward to partnership with DRDGold in growing an international, industry leading surface retreatment business," he said.
The firm's head of corporate affairs, James Wellsted, said the partnership would consider diversifying into other commodities. "There is potential growth in other commodities both in South Africa and in Africa," he said. "There is plenty of chrome and platinum group metals surface resources in the Bushveld area as well as copper and cobalt in Africa."
Key among the assets that Sibanye-Stillwater will inject into the partnership – which DRDGold will manage – is the West Rand Tailings Retreatment Project (WRTRP), a group of surface gold assets about which Froneman has long spoken.
Fresh from its $2.2bn takeover of Stillwater, the US palladium and platinum producer, the deal with DRDGold delivers on Sibanye-Stillwater's surface gold potential without sapping more management time or cash.
The surface gold assets of Libanon and Driefontein will be included in the partnership but it excludes the Cooke surface assets which Froneman said would retain the firm's 100% exposure to an improvement in the uranium price.
The option agreement over additional DRDGold shares allows Sibanye-Stillwater to buy up to 50.1% in DRDGold in a two-year period. The shares can be bought at a 10% discount to DRDGold's share price as calculated on a 30-day volume weighted average traded price. It's not certain, however, that DRDGold will disappear: as a separately listed entity, the venture would have its own balance sheet to raise future cash.
Sibanye-Stillwater will have a representative appointed to DRDGold's board on completion of the partnership terms.
Sibanye-Stillwater is heavily indebted at the moment following the takeover of Stillwater. Sibanye first raised $2.65bn through a bridging facility for pay for Stillwater as it was a cash acquisition. It then refinanced this facility using equity via a $1bn rights issue on June 12 and then a $1bn bond issue a week later.
As manager of the partnership, DRDGold will embark on development of the vended assets in two phases. The first phase will include the upgrade of Sibanye-Stillwater's existing Driefontein 2 and 3 plants in order they process tailings from the high grade Dreifontein 5 tailings storage facility (TSF). This must be completed in 24 months after deal closure and could see capacity doubled to 600,000 tonnes per month. Commissioning of the facility will take 12 months.
The phase one development was expected to be cash generative with "… minimal upfront capital investment". Cash generated from the first phase will be pumped into phase two and the refinement of the original WRTRP process. Phase two will deliver a central, high volume central processing plant capable of processing at least one million tonnes per month of tailings.
"Sibanye-Stillwater will realise immediate value for under-utilised surface infrastructure and TSFs, while retaining upside to the WRTRP and future growth in DRDGold," said Froneman.
The partnership will almost double DRDGold's resources currently estimated to be about 5.75 million ounces of gold. The company produced 137,000 oz of gold from surface retreatment activities in its last financial year. It paid a five cents per share dividend.