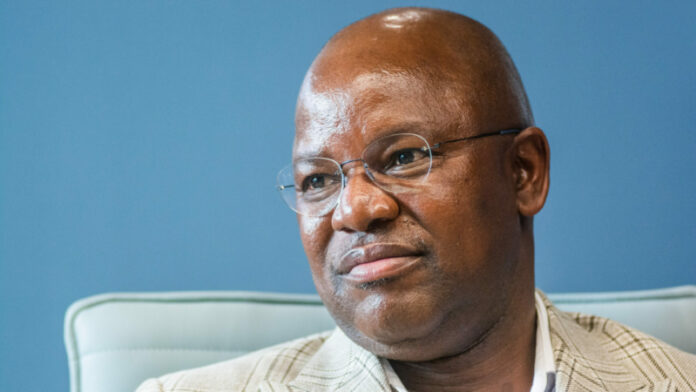 THERE might be more than meets the eye regarding Thungela Resources' R4.1bn tilt at Australian coal mine Ensham. A market source said the company intended to use its newly established Australian base to search out additional non-coal as well as coal opportunities.
July Ndlovu, CEO of Thungela, said on February 3 that the purchase of the mine provided "a gateway" to other potential acquisitions in Australia. Ensham is situated in Queensland's Bowen basin which is rich in iron ore.
In an interview on Monday on the sidelines of the Mining Indaba, Ndlovu declined to confirm the speculation. But he said the company's growth strategy was focused on assets rather than commodities.
"We look at assets that meet our investment criteria and deliver value through the cycle," he said. Thungela was focused on bulk commodities "which we understand with markets we understand".
Ndlovu said that the increase coal demand, which dates from Russia's invasion of Ukraine, was likely to persist this year. In the longer term, however, analysts believe coal demand will begin to plateau.
According to the International Energy Association, global coal consumption will be flat from 2023 to 2025 after increasing 1.2% in 2022 to more than eight billion tons. Thereafter, consumption will decline in mature markets and remain robust in Asian economies.
Ensham is a 3.2 million ton a year mine with a 16 year life of mine and is permitted through to 2028. There is potential for expansion, Thungela said. Ndolvu said the proposed two-and-a-half year payback on the asset was not predicated on productivity improvements.
He added that Australia was an ideal base for the company to grow.
"Once you look at coal, there aren't too many geographies you're looking at and therefore it stands to reason that a jurisdiction like Australia, which is a mature mining jurisdiction, has got a very efficient infrastructure and makes absolute sense for us. So continuing to look there is not a bad idea."
In addition to the acquisition of Ensham, Thungela has also approved the R2bn development of its Elders and North Zibulo mines in South Africa's Mpumalanga province. Production from the expansions would replace Goedehoop, a mine Thungela expected to close this year.
Thungela's export sales for 2022 was forecast to be 12.8Mt compared to guidance of between 13Mt and 13.6Mt, a 15% decline. Lower production has resulted in an increase in the freight on board cost per export ton which would come in a R955/t compared to guidance of R885 to R915/t, Thungela said last year.