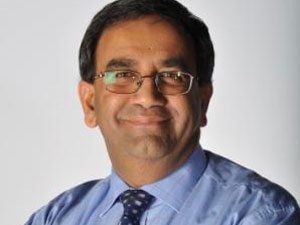 [miningmx.com] – AngloGold Ashanti (AngloGold) CEO Srinivasan Venkatakrishnan has taken a hard line over potential strike action in South Africa's gold sector pointing to his group's ability to cope because of the strength of its offshore operations.
Replying to questions after a presentation of AngloGold's results for the June quarter Venkatakrishnan said, "it's premature to talk about a strike but, should we end up in a protracted strike, the reality from an AngloGold point of view is that South Africa accounts only for about 30% of our production on an annual basis.
"If you look at what South Africa contributed to AngloGold's EBITDA (earnings before interest, tax, depreciation and amortisation) in the second quarter it's well below 20%. The company has a global portfolio which can withstand it although a strike will be damaging in the long-term for the industry.
" It will impact on the lives of the mines as well as the number of jobs the mines can offer in the longer-term. I just hope we don't get to such a scenario.'
Asked whether he was declaring that AngloGold was prepared to take a strike in South Africa because of the strength of its overseas operations Venkatakrishnan replied, " at the end of the day that's not what I'm saying.
"What I am saying is we believe as producers we have kept the moral high ground and put our best foot forward giving a generous increase that is well above inflation. We have bent over backwards in terms of discussions with the unions to try and reach a settlement.
"I am hopeful we don't end up in a strike scenario because we have just seen what has happened to the platinum industry on the back of a prolonged strike and the extent of the job losses.
"All I want to say is that, in the event that our workers chose to go on strike, I am just pointing out the diversified nature of our operations and the ability to withstand a strike.'
Turning to the group's financial position Venkatakrishnan said the sale of US gold mine Cripple Creek and Victor for US$819m had dropped AngloGold's net debt position from $3.1bn at end-June to a pro-forma $2.3bn and the group was not looking at further asset sales.
"As far as sales to deleverage the balance sheet are concerned those are completed. We said we wanted to get to a net debt to EBITDA ratio of around 1.5 times in the medium term. That is done. As they say in the navigation system "you have arrived at your destination'.'