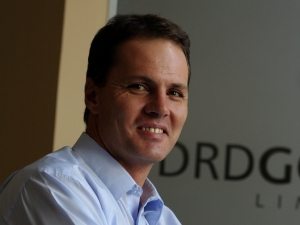 [miningmx.com] – DRDGOLD will pay a 10 cents per share dividend capping off a year of operational recovery in which it put to bed technological problems and found a compromise that gives it uninterrupted power supply from South Africa's under-pressure electricity utility, Eskom.
The company was also considering the merits of a share buy-back in which it would reduce the amount of shares in issue and increase returns to shareholders – a process of deliberation that may take six months, said Niel Pretorius, CEO of DRDGold.
Commenting on why DRDGold did not distribute its cash in the dividend as per the firm's dividend policy, Pretorius said "… we believe the market is favourable for a buy-back; we are chewing on the option.
"We are hoping to get a specific mandate from the board for a buy-back. The expectation is that if the share is under-valued, as demonstrated by independent analysis, we should consider doing that".
Headline earnings for the year ended June 30 totalled R38.7m which compares to the mere R700,000 recorded in the previous financial year. The improvement was related to the 12% increase in gold sold to 150,000 ounces.
DRDGold said cash and equivalents increased to R324.4m from R208.9m year-on-year while free cash flow generation was R246m. "If you could just pause and ponder. It's a very important measure for us," said DRDGold CFO, Riaan Davel.
DRDGold uses a combination of old and new recovery technologies to extract gold from the Witwatersrand's gold dumps. Its main plant – known as Ergo – is situated in Brakpan which is east of Johannesburg.
It was the under-performance of DRDGold's new flotation fine grind (FFG) circuit into its existing, and older, carbon-in-leach circuit at Ergo that was the source of its problems in the 2014 financial year.
Commenting on remediation methods in the year under review, Pretorius said that redoubled efforts to combine the technologies was "… rewarded with an increasingly stable operational environment … within the parameters of what we had anticipated at the outset".
"The conversion of the high grade section to CIL is now completed, as is the upgrade to the low grade CIL to increase its volume capacity by 300 000 tonnes a month," he said.
For the current 2016 financial year, Pretorius said the focus would fall on integrating the two circuits in an optimisation effort.
During the year, DRDGold agreed with Eskom that it would switch off non-essential equipment during periods of load-shedding provided the power utility keeps the company supplied with enough electricity to maintain "an acceptable level of operation".