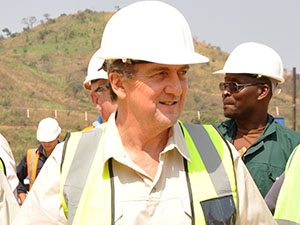 [miningmx.com] – THE Obuasi mine in Ghana "… did not have a social license to mine" and was "in conflict with everyone", said Mark Bristow, CEO of Randgold Resources, the UK-listed gold miner currently deciding whether to form a joint venture with the mine's owner, AngloGold Ashanti.
Speaking at a media lunch in Johannesburg today, Bristow said legacy issues developed over a century of mining were among the major challenges facing the viability of Obuasi which was placed on care and maintenance by AngloGold last year.
In September, Randgold and AngloGold jointly announced details of a proposal in which the two firms may establish a joint venture to operate the mine. If it passed a due diligence, the parties would contribute equally to the mine's recapitalisation which would total some $600m in capital and $400m in sustaining capital.
Bristow said he had first been approached by AngloGold CEO, Srinivasan Venkatakrishnan to create a joint venture that would operate all of AngloGold's African mines. Bristow said he turned down the offer which AngloGold today described as one of "a range of discussions" it undertook to "… unlock shareholder value".
"Some, like Obuasi, progress to the point were they become reality, and others, like this very cursory chat almost three years ago, simply don't," said AngloGold in a statement.
"Our Continental African region is the strongest performer in our portfolio, due to our strong partnerships with Randgold, and also to they similarly excellent performance from our own managed assets. We like that mix, and have no intention of changing it beyond the Obuasi joint venture," it added.
The prospect of the joint venture interested Bristow as well. "One of those mining blocks [in Obuasi] is a whole bunch of Yaleas," he said comparing the scale of the Ghana mine to the Mali mine one of Randgold's assets.
Important criteria for the joint venture was that Randgold operate the mine, and AngloGold, as well as the Ghanaian government, sign up to the environmental liabilities that might be discovered, said Bristow.
A Randgold team had been moved from Kibali, a mine in the Democratic Republic of Congo that had been developed in joint venture with AngloGold, to run the rule over Obuasi, but the scope of the study had extended beyond mining.
The team would seek to re-mechanise the mine, he said, adding "… it's not all about declines … the problem is 100 years of legacy all around. Can you convert a world class orebody into a world class mine?" he said. "Can you support all those who are sucking on it," he added.
Mining at Obuasi began in 1897 when it was originally known as the Ashanti mine. It was subsequently operated by Ashanti Goldfields, a company in which the Ghanaian government had a stake.
In 2003, Bristow's Randgold competed with AngloGold for control of the mine after Ashanti Goldfields ran into financial problems, but Randgold subsequently decided to walk from the deal a year later. This left the way clear for the merger of AngloGold with Ashanti Goldfields to form AngloGold Ashanti.
Questions that Randgold would ask in its due diligence was how to tackle the fact employees in Ghana were paid in dollars, improving relations with stakeholders, and discovering the extent of its liabilities, including environmental.
"The mine doesn't have the social contract to mine and it seems to be in conflict with everyone. A big focus is discovering the liabilities. We don't know this currently. If we don't find a solution it will be the [Ghanaian] government's problem. That is a hard discussion that has to take place," he said.
The key target dates are that Randgold complete the due diligence and development plan for Obuasi by the end of January and that the regulatory terms are agreed with the Ghanaian government and ratified in parliament by end-March 2016.
This is the third joint venture to be set up between Randgold Resources and AngloGold with the first two being Morila in 2000 followed by Kibali but relations between the two groups were initially stormy.
Bristow said Venkatakrishnan had done better than most gold executives, adding that the sale of AngloGold's Cripple Creek & Victor mine for $820m to Newmont Mining was "probably the best deal [in the gold sector] in the last 10 years".
"It's bully for Venkat because he has taken a decision. He's done very well," said Bristow, who added that relations with Mark Cutifani, the former CEO of AngloGold, had been difficult.