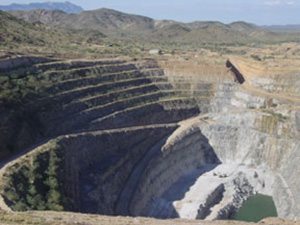 [miningmx.com] – ANGLOGOLD Ashanti is to
sell its Navachab gold mine to former JP Morgan Cazenove banker Lloyd Pengilly's QKR Corporation, a private equity firm that will pay
$110m in cash for the Namibian asset.
"Navachab is QKR's first acquisition and is the result of an extensive review process," said Pengilly in an announcement today.
"We believe Navachab has significant potential and we look forward to working closely with the management, staff and contractors of
Navachab, the Government of Namibia and Epangelo to steer the mine through its next phase of growth,' he said.
Epangelo Mining Company, founded in 2008, has the Namibian government as its sole shareholder. Navachab has gold reserves of about 2.1
million ounces.
Said Charles Carter, executive vice president of strategy and business development at AngloGold Ashanti: "We are executing on our strategy
to focus our efforts on assets of scale that drive value in the business'.
"We're pleased to have reached agreement to sell Navachab for fair value in the midst of a difficult market – we believe that QKR is the right
group to take Navachab forward,' Carter said.
The agreement provides for a 2% royalty in the form of net revenue (net smelter return) which will be paid quarterly for seven years from
the second anniversary of the deal closure, AngloGold Ashanti said.
The royalty is payable provided the gold price received by Navachab is not lower than $1,350/oz. The royalty governs the first 18,750
ounces produced by the mine each quarter.
In AngloGold Ashanti's 2012 financial year, Navachab produced 74,000 ounces of gold – about 2% of the group's total production – at a cash
cost of US$929/oz.
The sale of the asset springs from a strategy launched last year in which AngloGold Ashanti suspended dividend payments and said it would
strip out corporate, capital, exploration and operational costs totalling $482m equal to $100 per ounce.
As part of the cost-saving drive, AngloGold Ashanti CEO, Srinivasan Venkatakrishnan, said the group would review all its assets, dispensing with non-core operations provided it received good value.
Pan African Resources, a Johannesburg-listed mid-tier gold producer, was last year connected with an offer for Navachab. It was even
mooted that it would launch a joint bid with Giyani Gold, a Toronto-listed gold exploration firm.
Pan African Gold gave qualified support to the speculation, but added that its talks did not warrant an announcement to the Johannesburg
Stock Exchange.