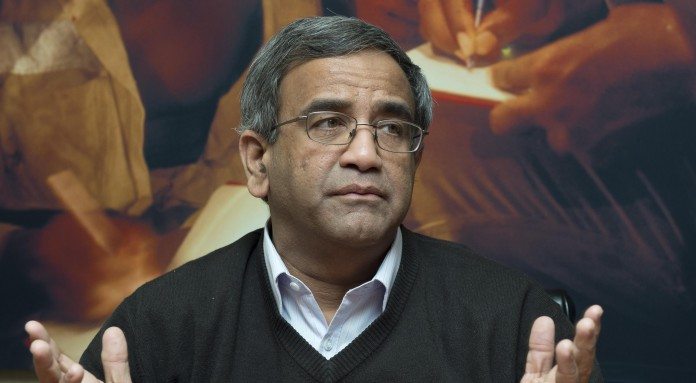 ANGLOGOLD Ashanti made hay amid an improved gold price and weaker local currencies against the dollar cutting net debt by a third and positioning it to reinstall the dividend, most likely in the first quarter of 2017.
"The dividend is a key focus," said Srinivasan Venkatakrishnan, CEO of AngloGold Ashanti. "We will look at this at end of this year and make an announcement next year," he said. Dividends would be paid as a percentage of free cash flow, he added.
The group also turned its attention towards production growth saying it would restart feasibility studies on projects in Colombia, to be completed by the end of next year, as well as spending $115m on Siguri in Guinea, and examining options at Sadiola in Mali and a ramp up of underground operations at Geita in Tanzania.
On the negative side, the company remained hamstrung on Obuasi, its Ghanaian mine, which has been invaded by artisanal miners, now numbering in their thousands, since it was mothballed in 2015.
Venkatakrishnan said his company and the Ghanaian government had been able to remove invading miners from high grade areas of the mine, but the operation was still effectively inaccessible. He described the process as "frustratingly slow".
AngloGold had taken a "wait and see" approach to resolving the crisis. "Ghana is going through an election period. One has to wait and see at the year-end what the outcome will be, and where the arbitration process leads us to," he said.
In April, AngloGold filed a notice with the Washington-based International Centre for Settlement of Investment Disputes to help it resolve the crisis at the mine.
Despite the setback at Obuasi, the interim results represent a watershed moment for Venkatakrishnan whose three-year tenure as CEO of AngloGold coincided with a heavy decline in the dollar price of gold forcing it to retrench staff and close mines.
The decline in the gold price also exposed the firm's balance sheet as it had invested in new production during the 10-year gold bull run which culminated in the price peak of $1,900/oz in 2011 before collapsing to just about $1,100/oz last year.
The masterstroke was the sale of the Cripple Creek & Victor gold mine to Newmont for $819m last year which accounted for the most significant cut in net debt from $3.1bn to $2.19bn. Further inroads where made in the six months ended June 30 mostly by getting into its high interest yielding debt.
This month the company completed the redemption of seven-year bonds that carried 8.5% in interest at a cost of $503m. Overall net debt fell 32% to $2.1bn while free cash flow tripled to $108m in the period.
The weakening of local currencies – in Argentina, Australia and Brazil – gave a blush to the financial numbers. (As a whole, all-in sustaining costs (AISC) improved to an average of $911/oz compared with the $924/oz recorded in the first half of 2015). But there were  improvements in operating performance: most notably at Sunrise Dam in Australia and Cerro Vanguardia in Argentina whilst Mponeng, its South African mine, lifted production a quarter and lowered its AISC 28% year-on-year.
Gold production fell to 1.75 million ounces from 1.88 million oz previously owing to planned reductions at Geita, Obuasi and Tropicana whilst Kibali, the Democratic Republic of Congo mine it shares with Randgold Resources, encountered production problems. Randgold, the operator of the mine, has promised to restore the mine's performance this quarter.
AngloGold said it was on course to achieve its full-year production guidance of between 3.6 million to 3.8 million oz at an AISC of between $900 to $960/oz.
The outcome for the period was a $75m turnaround in net profit for the six months which came in at $52m compared to a $23m loss in the six months in 2015. Adjusted share earnings were 39 cents compared to 15c/share previously.
The ratio of net debt to adjusted earnings before interest, tax, depreciation and amortisation at the end of June 2016 was 1.44 times, compared with the 1.47 times recorded at the end March 2016, and 1.95 times at the end of June 2015.
Goldman Sachs said it was only "a matter of time" before the dividend was reinstated and described AngloGold as being "… in a much better position now".