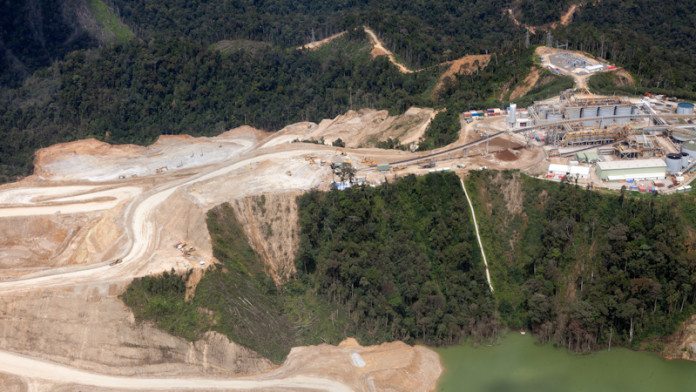 HARMONY Gold is to buy out joint venture partner Newcrest Mining's 50% stake in Hidden Valley and invest $180m in the Papua New Guinea mine in an effort to double its production.
The South African gold miner announced today that it intended to increase production at Hidden Valley to 180,000 ounces a year as part of its ambition to lift group production 400,000 oz/year in three years to 1.5 million oz/year.
"Acquiring 100% of the Hidden Valley mine and its surrounding exploration tenements meets our acquisition criteria," said Peter Steenkamp, CEO of Harmony Gold.
"After the initial investment phase Hidden Valley will generate strong free cash flows, which could be applied to the development of the Wafi-Golpu project and our exciting exploration portfolio in Papua New Guinea," he said, adding that the plan was to mine the 5 and 6 cutback at the mine.
The first phase of Wafi Golpu, in which some 3.6 million ounces of gold will be produced, is slated to cost about $2.6bn, equal to R37bn on an 100% basis
Harmony forecast production of between 80,000 oz to 95,000 oz this year – equal to 8.5% of total production – at a cost of between R395,000 to R425,000 per kilogram.
"Our acquisition of the Hidden Valley mine is aligned with our overall aspiration to increase our annual production profile to 1.5 million oz within three years," said Steenkamp.
"We believe that Hidden Valley has the potential to contribute approximately 180,000 oz gold per annum to Harmony's production profile at an all-in sustaining cost of less than $950/oz within the next three years," said Steenkamp.
It also said the mine of life of Hidden Valley would be extended by seven years. The current life of mine was estimated to be between three and six years, according to Harmony Gold's 2015 annual report.
As of June 30, Hidden Valley had an estimated mineral reserve of 1.4 million oz at 1.6 grams per tonne (g/t) and some 27 million oz of silver at a grade of 31g/t. The estimated mineral resource includes four million oz of gold at 1.6g/t and 73 million oz of silver at 29g/t.
In terms of the offer to Newcrest, Harmony will buy the Australian firm's wholly-owned subsidiary, Newcrest PNG 1 Ltd, for $1 in cash. It will also include assuming all liabilities and expenses related to the mine, including environmental liabilities, and Newcrest's 50% stake in Hidden Valley's adjacent exploration tenements.
Newcrest had made a $22.5m once-off contribution towards Hidden Valley's future closure liability, said Harmony. The two companies would remain joint venture partners in the Wafi-Golpu project, Harmony said.
The decision to invest in Hidden Valley delivers another surprise in Harmony's expansion plan after Steenkamp said during the firm's second quarter results presentation that in an effort to increase profitability, it would 'high grade' or mine only the most profitable parts of Kusasalethu, it large West Rand mine, reducing the operation's life of mine to five years from 24 years.
Hidden Valley was loss-making in Harmony's 2015 financial year following the failure of the overland conveyer and a safety stoppage as a result of a fatality at the mine which led to lower gold production. Harmony said it would restructure the mine which would have shortened its mine life.
Capital expenditure on the mine had been planned at R135m in the current financial year compared to R121m in the previous year but there was no growth capital in that number in either year.
Shares in Harmony were 1.46% higher in early trade on the Johannesburg Stock Exchange valuing the company at nearly R21bn.