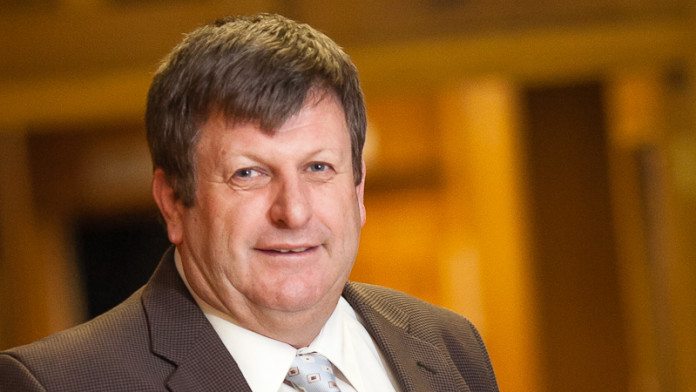 THE reconfiguration of AngloGold Ashanti's portfolio continued apace today with an announcement that it would sell its Moab Khotsong operations to Harmony Gold for $300m – a transaction that halves its South African production.
The group, formerly a division of Anglo American and the cornerstone of the South African gold mining sector, also said it had concluded the sale of its Kopanang mine, an asset west of Johannesburg that had been formerly earmarked for closure. The mine will be dispatched to Heaven Sent, the Chinese owner of Village Main Reef, for some R100m as well as the transfer of surface gold resources.
AngloGold now mines at two remaining assets in South Africa: its long-life Mponeneg/TauTona mining complex which has a project extension underway, and Mine Waste Solutions, a surface retreatment operation. It will not have any more underground mining operations in the Vaal River region following the sale of Moab Khotsong.
AngloGold would take net debt down to about $1.8bn and leave the transaction with a more globally balanced portfolio instead of its South African heavy exposure. Total South African production will reduce to about 450,000 oz/year from 967,000 oz whilst its mineral resources will fall to 57.9 million oz equal to 30% of group resources compared to 38% of total group mineral resources prior to the transactions.
Whilst AngloGold said it had a significant project pipeline, it's still worth noting that excluding the extension project at Mponeng, the projects are in Colombia, the Democratic Republic of Congo, Ghana, Guinea and Australia. In 2016, it put its Obuasi mine on care and maintenance but also opened Kibali in joint venture with Randgold Resources.
From AngloGold's perspective, the sale was driven by its strategic thinking over capital allocation as it was likely it would not proceed with the Zaaiplaats project which would have extended the life of Moab Khotsong.
"This transaction is in line with our capital allocation strategy and our aim to effect the improvement of our global portfolio, through projects that extend mine lives, enhance margins and provide quicker cash turns on investment" said AngloGold CEO, Srinivasan Venkatakrishnan in an announcement.
TRANSFORMATIVE
For Harmony Gold, however, the transaction is potentially transformative. Following completion of the deal, which will be in cash and may involve a rights issue in order to refinance initial bridge finance, it will have more than 250,000 ounces a year in additional gold production – an increase of about 25% on current production and a boost to gold resources of 38% to some 17.5 million oz.
It advances Harmony CEO, Peter Steenkamp's, strategic aim of portfolio repositioning of its own by cutting low margin gold production from assets such as Kusasalethu while increasing production to nearly 1.5 million oz a year – a plan he outlined in 2016 but which appeared to have been frustrated, until now.
"Buying Moab Khotsong means we boost our cash flows by more than 60%, increase our average overall underground recovered grade by 12% and grow our South African underground resource base by 38%," said Steenkamp in an announcement.
Started in 2006, Moab Khotsong is the newest underground mine currently operating in South Africa. It has incorporated the neighboring Great Noligwa operation since 2015. The two mines produced 280,000 oz of gold at an all-in sustaining cost of $884/oz for AngloGold's 2016 financial year ended December 31. They produced 130,000 oz of gold at an AISC of $998/oz for the six months ended June 30.
RIGHTS ISSUE
Of the $300m consideration, some $100m will be settled from Harmony's existing $350m debt and revolving credit facilities with the balance settled through a fully underwritten $200m bridge loan facility. "Harmony is assessing various alternatives to optimally repay the bridge, including a potential rights issue," it said.
Frank Abbott, CFO of Harmony Gold, said in a media call this morning that a final decision regarding the rights issue would be made in December when the company issued a shareholder circular. It was possible, however, the group could ask for less than $200m in shares. He added the transaction had "a very short payback" without giving details.
He also believed that post the transaction, Harmony Gold would continue to manage "one of the best balance sheets" in South African gold mining. Net debt as of mid-2017 was about R900m while Harmony's long-term Golpu project with Newcrest Mining in Papua New Guinea would not be disturbed, he said.
"We will be in a better position to do Golpu," said Steenkamp referring to the improved cash flow that Harmony expected after buying Moab Khotsong.
Asked if regulatory risks might unhinge the project, as demonstrated by the mines minister, Mosebenzi Zwane's recent suspension of mining and prospecting licenses – since withdrawn  – Steenkamp said: "I'm sure this will have the support of the South African government." There is uncertainty in South Africa regarding compliance of mining companies to its black economic empowerment targets.
Said Harmony: "Harmony believes this it is fully empowered under the MPRDA [Minerals and Petroleum Resources Development Act] and current Mining Charter. Harmony has therefore undertaken to work with AngloGold Ashanti and the DMR [Department of Mineral Resources] to ensure that the transaction is implemented in a manner that goes beyond compliance and ultimately to the benefit of South Africa].
The existing Mining Charter empowerment target in terms of ownership is 26% but a redraft of the Charter in June set a new target of 30% among a raft of other previously unseen demands in respect of procurement, training and development as well as recommendations on dividend payments and treatment of empowerment partners.