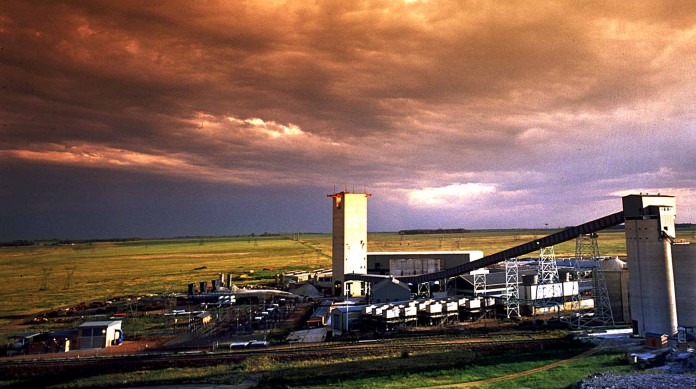 FIRST on Harmony's do-list following the handover of AngloGold's Moab Khotsong mine in the Vaal River Region will be an analysis on how it can cut costs at the seven-year old operation.
The two firms announced today that Harmony would acquire the mine for $300m – a move that will halve Anglo's local production and free up cash for its international operations.
The transaction sees Harmony buying a package of assets that include the Moab Khotsong mine, which has 1.7 million ounce minerals reserve at 8.8 grams per tonne (g/t) of gold and the Great Noligwa pillar extraction project, which has the potential to extend the life of mine.
Combined, the operations produce around 280,000 oz of gold at an all-in sustaining cost (AISC) of $884/oz. But Harmony CEO, Peter Steenkamp, said the group can produce gold from the operation at a lower cost.
"We'll be disappointed if we can't take a significant portion of the current costs out. The [approach] to the mine by Harmony will be very different to that of Anglo, so I'm confident that will lower costs," said Steenkamp.
Also included in the deal is the Zaaiplats extension project and the low-cost Mispah storage complex. The Zaaiplaats project, which boasts a 6.8 million oz resource at 17.2 g/t of gold, is currently in prefeasibility stage, and the company aims to move into the feasibility study phase "as soon as we take over".
AngloGold deferred the Zaaiplaats project, a life extension of its Moab Khotsong mine, following a decline in the gold price in 2013. It said today it could not justify allocating capital to the project when set against its other priorities elsewhere in its mineral portfolio.
The Mispah tailings contains a resource base of over 70 million tonnes of ore with an average gold grade of 0.30g/t and the company says there is "considerable scope" to convert the acquired facilities to a tailings retreatment operation, in line with its current operations at Phoenix and Central Plant.
Said Steenkamp: "This is a very exciting transformational transaction that puts us in a different ball game as far as ounces and grade are concerned."
CHASING OUNCES
Following the acquisition, Moab will become Harmony's most profitable mine, expanding the group's underground resource base by 38% and increasing its yearly South Africa production by 25%. This plays neatly into Steenkamp's plan to boost Harmony's overall production to 1.5 million oz a year by 2019.
The transaction is also expected to lift operational EBITDA (pretax earnings) by 42% and result in a 62% increase in South African operational free cash flow.
Steenkamp told investors this morning that the company had not seriously considered the acquisition of AngloGold's nearby Kopanang mine, which AngloGold was also offloading as part of its streamlining strategy, as it was unlikely that the group would have been able to bring the operation's AISC's below $950/oz.
Anglo has instead sold the asset to Heaven-Sent SA Sunshine Investment for R100m.
Asked how the acquisition of Moab Khotsong would, if at all, affect Harmony's plans to develop its longstanding Golpu project, in Papua New Guinea, Steenkamp said a firm decision could only be made once the project had progressed further.
"When we have the mineral rights for Golpu, we understand the feasibility study and we know the extent of government involvement, we will make a decision. Right now, the project's holding costs are low, so we don't need to make a decision ahead of time," he said.