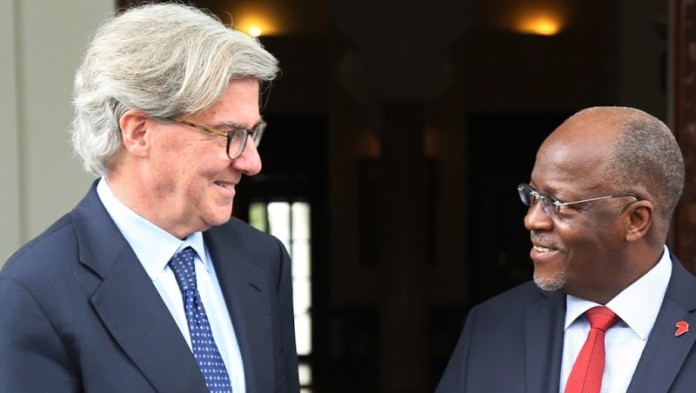 BARRICK Gold has agreed to share equally the "economic benefits" generated by the mines of its 63.9%-held listed subsidiary, Acacia Mining, with the Tanzanian government to which it will also pay $300m in part payment – described as a goodwill gesture – for outstanding tax allegedly owed to the East African country by Acacia.
Styled as "modern, 21st century partnership", Barrick Gold chairman, John Thornton said the understanding signed with Tanzanian president, John Magafuli, had taken the form of a "framework agreement". No details were provided as to what was exactly meant by economic benefits. Acacia minority shareholders also have to approve the settlement.
The framework agreement potentially brings to an end a fraught period for Acacia dating from April when the Magafuli administration halted exports of concentrates from its Bulyanhulu and Buzwagi mines and soon after passed new mining legislation that set down terms for greater government ownership of assets among other features.
The government claimed it was owed tens of billions of dollars in unpaid tax, as well as penalties and interest – a impost on Acacia that was clearly unsustainable. Acacia at first responded with disbelief, saying that the calculations delivered by two presidential reviews regarding the levels of historic unpaid tax were technically impossible to achieve based on the mines' audited output.
The impact was devastating for Acacia Mining which eventually placed Bulyanhulu on care and maintenance as a result of the export embargo. It kept Buzwagi open given it is nearing the end of its economic life whilst North Mara, Acacia's third mine in Tanzania, remained open as it produced gold doré rather than concentrates.
In terms of the framework agreement "… economic benefits generated by Acacia's operations would be shared with Tanzania on a 50/50 basis going forward", Barrick Gold said in an announcement. This presumably includes North Mara.
Said Thornton: "A partnership requires trust between the parties, and transparency is the currency of trust. Through our discussions over the last three months we have established both and this will form the basis of our relationship in the future." Barrick was drawn into the negotiation process as the Tanzanian government refused to deal with Acacia Mining.
Barrick also agreed to establish a working group that will focus on the resolution of outstanding tax claims against Acacia. "Under this proposal, as a gesture of good faith, Acacia would make a payment of $300m to the Government of Tanzania, with payment terms to be settled by the working group," said Barrick.
Acacia Mining is due to report its third quarter production figures tomorrow (October 20) where it is likely to address the framework agreement. Shares in the company gained as much as 39% during the day's trade, but at the time of writing had retraced somewhat and were 12% higher on the day.