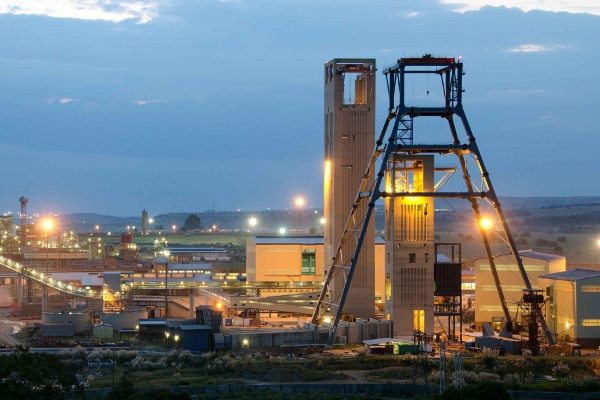 GOLD Fields responded strongly to the previous quarter's operational setbacks staging a $152m positive swing in cash flow during the third quarter, and nibbling at net debt.
But South Deep, the South African gold mine that Gold Fields re-scoped for lower production earlier this year, is set to disappoint for the year. It lifted gold production 10%, but the recovery was insufficient to avoid missing guided annual production of 315,000 ounces, most likely by some 5% to 10%, the group said.
Total production for the third quarter was 567,000 oz, a 3% improvement quarter-on-quarter. All-in sustaining costs (AISC) were 5% lower quarter-on-quarter and 12% lower year-on-year at $906/oz. All-in costs (AIC) were 5% lower quarter-on-quarter and 1% lower year-on-year at $1,032/oz.
Overall, group full-year production is on target for 2.1 million oz to 2.15 million oz at an all-in sustaining cost (AISC) of $1,010 to $1,030/oz.
Goldman Sachs said in a note that Gold Fields' production was "a beat" despite the miss at South Deep. The outperformance "… was a function of strong beat at Cerro Corona which was attributed to higher grades," the bank said. The gold grade at Cerro Corona increased by 32% and copper head grade increased by 18%.
Gold Fields generated net cash flow of $85m after growth capital expenditure of $34m at Damang, $17m at Gruyere – Gold Fields' Western Australian gold project which it holds with Gold Road Resources – $4m at South Deep, and $12m at Salares Norte, a project in Chile. This compares to a net outflow in the previous quarter of $67m.
"If we exclude this growth capital, net cash flow for the quarter would have been $152m which is also stated after interest paid of $19m," said Gold Fields CEO, Nick Holland in notes to the firm's published third quarter operational update today. "Taking into account the net cash generated and interim dividend payment, the net debt balance decreased to $1.30m from $1.37bn at the end of June 2017," he said.
Gold Fields has set down ambitious growth plans involving growth and stay-in-business capital of $869m this year – a 35% year-on-year increase. The projects include South Deep, the extension of Damang in Ghana, the start of the ground-up development of the Gruyere gold project, and the Salares Norte project.
Commenting on its growth projects, the group said it was on track at Damang with $87m spent year-to-date against a budget of $120m. At Gruyere, engineering progress of 37.8% and construction progress of 19.8% were achieved, although some A$80m ($62m) has been deferred to the next financial year without disrupting the project's schedule.
A feasibility study regarding Salares Norte is due to be published in the first half of Gold Fields' 2018 financial year, the group said.