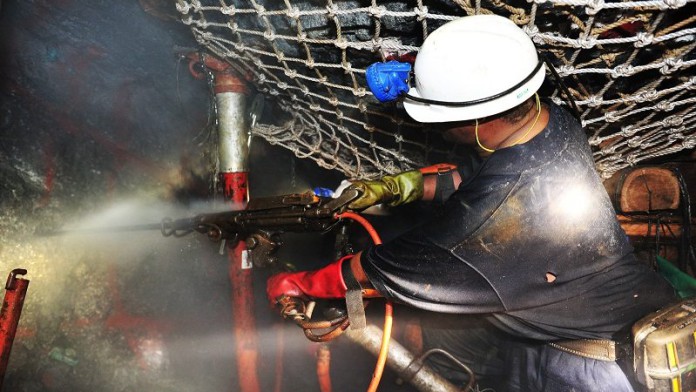 THE cost of mining gold in the first half of 2017 was comfortably the most expensive in South Africa than anywhere else in the world owing to above inflation wage increases, said GFMS Gold Survey, a quarterly gold market report published by Thomson Reuters.
Data from the GFMS Gold Survey third quarter review, which included an survey of newly mined supply, showed global mine supply in the first half of the year to have reached a total of 1,552 tonnes, some two tonnes above the same period last year, led by production from the US and Ghana.
The data from South Africa, however, was decidedly sobering. Producers struggled to control costs, said GFMS. This was down to the highly labour intensive nature of the South African industry and union strength once again being a major cost driver.
"This led to wages increasing above the inflation rate which, coupled with a stronger rand (+14%) and lower output, caused TCCs [total cash costs] to rise by 30% year-on-year to $1,033/oz. Costs at South Africa's largest producing mine, the Kloof Driefontein Complex, rose by 27% to $913/oz, while at Bambanani, TCCs surged by 48% to $1,162/oz. [Note: Harmony Gold contests this figure saying the cost increase is 15 to 22% depending on the period of time used and how AISC is calculated].
All-in sustaining costs (AISC) increased to $1,186/oz from $960/oz year-on-year which compares to $611/oz in South America and $612/oz in North America. Globally, AISC came in at $665/oz compared to $630/oz in the previous year – an increase of 5.6% compared to the 23.5% increase on South African mines.
However, it should be noted that South African mines are considerably older than their international rivals. According to GFMS data, the average processed grade of South African gold mines in the first half of this year was 1,69 grams per tonne compared to 1,80g/t in the first half of the previous year. This compares to 2.2g/t for South American mines.
GOLD PRICE
Gold prices were tipped to continue improving towards the end of this year and into 2018 where they would peak at $1,450 per ounce amid continued geopolitical pressures and likely weakness in key US markets, said GFMS Gold Survey.
The price of gold weakened in the third quarter following a price spike through $1,300/oz, but the survey authors styled this a "healthy correction" which would form a base to support the improvement in the metal's price in the current quarter. Buyers backed off the metal, especially in Asia, as it pushed through $1,300/oz.
"We think this is a healthy correction for the price that had become overextended and that it has formed a base for a more sustainable move above $1,300 later this year and to rise still further in 2018 as it averages $1,360 and hits a 2018 peak of almost $1,450," said the authors of the report.
Crucial in its estimation is growing risk in key global equity markets following all-time records on the S&P 500, the DAX and the FTSE.
"Even if this doesn't lead to a marked correction, we believe the growing risk will spur some investors to implement (or increase) an asset allocation into gold rather than being caught too heavily in an equity fuelled basket. This is likely to be supported by continued geopolitical tensions, whether from events in Korea, Catalunya or even the upcoming Italian election or Brexit negotiations," it said.
Physical demand for the metal has not matched the financial and geopolitical risks exerting upwards price pressure, said GFMS.
"Whether it is just the third quarter or looking at the first nine months as a whole it is noticeable that the improvement in physical demand has not been enough to offset the slowdown in ETF purchases from the stellar surge last year," it said. From a supply perspective, new mine production was "resilient", but Indian scrap flows had dropped by two thirds, it said.